Back in 2009, two months after I had my second child, my brother got married in Korea so I took a solo trip for a month(my parents were living there at the time) with my 18 month old and a 2-month old. When I came home, he had a lot of surprises for me with our house such as a new fireplace, my new closet, a surprise for the girls and more, you can see the before/after photos here.
When I was in New York for 5 days when I was pregnant with my third child(Jay surprised me with a trip to N.Y to see my brother and my best friend), I came home to a spotless clean house with everything deep cleaned(even behind the oven and the refrigerator), a handmade chore chart that they all worked on by coloring it, laminating it, and with magnets on it, the girls listened so well and were happy, and the laundry all caught up. He made dinner with vegetables, went on a swim play date with my girlfriends and their kids where he packed handmade musubi's for even my girlfriends and they all asked him for a recipe, basically he was me but x10 better. I asked Jay how it was and if he thought it was hard and he just said, "Hard? Nah, it wasn't bad at all." (see the post here)
A part of me was glad he not only survived but obviously thrived, but a part of me was like, "All I ever wanted to hear when I come home after a long trip is for my husband to say to me, "Oh, I don't know how you do it, I have so much more respect for you and all the other stay at home parents out there, it was the hardest thing I have ever done." But instead, I am the one feeling guilty that I should be doing more when he's at work!
And last week when I was in Charleston, SC for a blog conference, I came home to find the biggest surprise ever. My husband's hobby is to flip homes and rent them out and move to another old home so after renovating our first home, he bought our current home with the plans to renovate and rent. But life got so busy and even though he had intended to renovate every single year for the past 9 years, it never happened. This is the reason why we are building a new house, because after waiting patiently for 9 years, I told him I am done waiting and he has to set a timeline and really follow through on renovating and if he didn't, then we get to move to a newer house that doesn't need any major renovating, or we get to build a house.
So as you can see in the photos below, we've had this carpet for the 9 years we've lived here. NINE YEARS!!! It's the carpet you find in your High School, the ones that are multi-colored and hides everything so it never looks dirty but it never looks clean either? The carpet where if you drop something, you just give up and walk away, it's lost forever? Yeah, that kind of a carpet. We also have light brown shaggy carpet in our bathrooms too, don't be too jealous. I am always hesitant in sharing our beautiful carpeted kitchen and bathrooms because the internet can be a place of jealousy and comparison and I never want people to think I am rubbing it in their faces. Because I am super humble!
Well, what I didn't know while I was gone was that Jay decided the day before I came home, that he would replace our carpet with a new wooden floor. So without further ado, I introduce you to my carpet which I fondly named, Drop Something, Just Walk Away.
BEFORE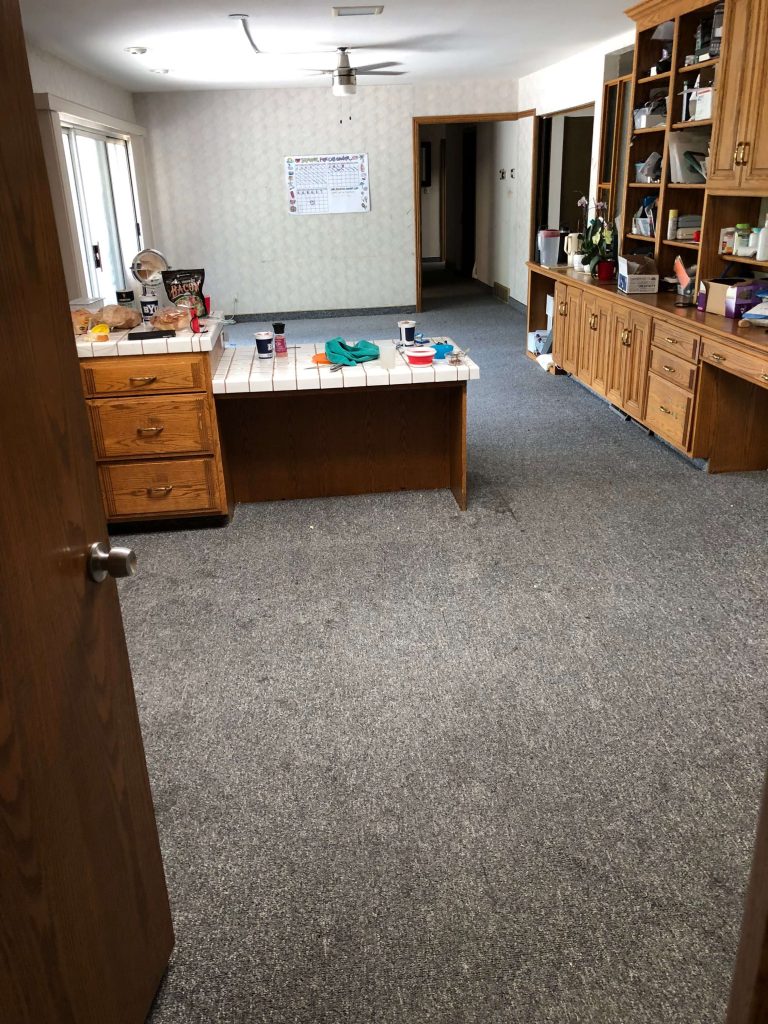 Now that you have seen this immaculate beauty, please take a deep breathe and remember the quote, "Comparison is the thief of joy."
PROGRESS
Jay says the girls helped out a lot!
AFTER
watch the video below for the surprise at the end!
(the first part is taken from my Instastory archives where I got so many comments saying, "Wait, is that carpet in your kitchen?" so I gave a little tour and it was probably my most engaged story ever! People loved that it wasn't the perfect, Pinterest-worthy house that they see everywhere and an Instagrammer actually had an ugly house! Hahaha.
What do you think? Doesn't it make our whole kitchen/dining area so much brighter? It only took him 12 hours to install them by himself! He did ask me what color I wanted our wood floors to be for our new house so he matched the color to what I wanted. Since we will rent this house when we move to our new house and wanted it to be low maintenance and last through all the tenants, he chose the luxury vinyl planks. I like them a lot and love that I don't have to worry and stress when me or the kids spill something and am debating whether to get these or the hardwood floors for our new house? What is your vote?
And follow me on YouTube if you want to follow my new series, "My Husband is Building Me My Dream House!"