Welcome to our 1st episode of "DIY DREAM HOME: My Husband's Building My Dreamhouse!" Click play to see the design of our house, where we will be building and the difficulties we faced trying to design a home we love!
(Captions from the video):
I am so excited to share this journey with you!!! This series will be a year long series where I will take you on our home building journey from start to finish, tips, tutorials and the mistakes I am sure we will make along the way so you don't make the same mistakes! In our 1st episode, I will be sharing with you how we chose the design we finally ended up with, the hardships we faced(even some fights we've had), how we were able to resolve our issues, our land where we will be building our dream house and a sneak peek of what our house will look like! So get ready, I am so excited you will be joining us on this crazy journey!
We were suppose to move into our house right now, like this month but we haven't even broke ground yet. Ugh. I will tell you the reasons why it's taken us so long.
M husband and I have completely different tastes when it comes to exterior style of homes. He's more modern, I am more classic, he's more trendy, I am more timeless. But we are both stubborn and strong-minded. Which equals a lot of disagreements. So we weren't sure which way our house would go. But one day, on the 4th of July my husband's favorite Holiday, as he was setting up all his ridiculous amount of fireworks he bought, he said to me, "Sarah, if you let me buy this many fireworks every single year from now on, without complaining or whining once, then I'll build you whatever exterior house you want." I thought about it for 10 seconds and said deal.
So it's a win win, husband gets to explode plethora of fireworks every single year without me complaining that fireworks are money getting blown up, because it literally is, and I get a house of my dreams!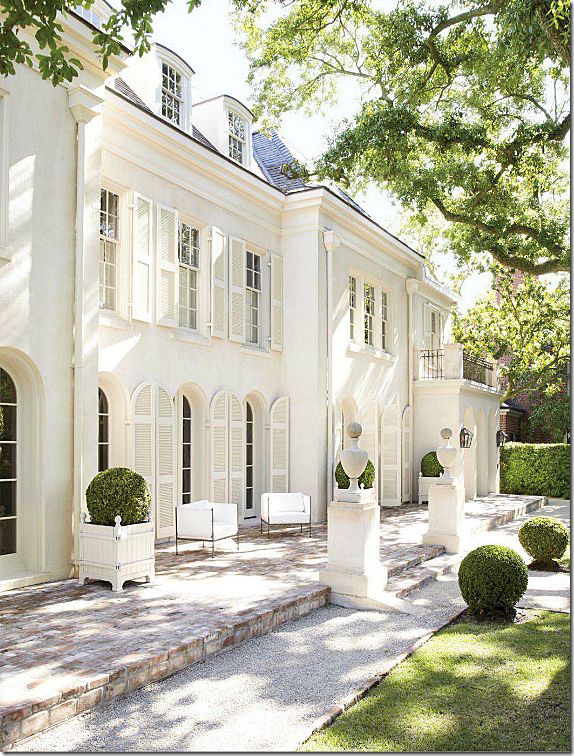 We tried to make my vision of the house work along with the floor plan that Jay picked out soon after, but it was a disaster. Jay didn't want French doors, French windows, the design wouldn't work with the floorplan, so after compromising so many things things I loved about the house and going back and forth with our architect tens of times and re-designing, the end result was a disaster. It looked nothing like my original idea, It was a really badly designed house, it looked like a big school house. I hated it. So I put my foot down and said, "We are starting all over and this time I will design the exterior of the house, and only THEN you can design the floor plan."

The misaligned front door, the horizontal windows, the side buildings being wider than the center, and the weird side pop-outs with the sloped roof…. WHAT….
So we started all over, which set us back a good 9 months. BUT we have finally designed a house we love, both inside and out and we are so excited to get this started!
I do have to say we fought a ton during this process of designing in the beginning. We fought like we've never had before, it's like parenting where all your worst faults get magnified by a 100x fold and this monster in you comes out that you never knew existed. Many people have told me it'll test your marriage and lots of couples end up in a divorce through the process of home building and I understood why! I cried many times and one late night in the middle of our fight and I was crying, my husband looked at me and said, 'If you knew just how much I loved you and how much I pray that this house will be the house of your dreams, you'd be less worried and trust me more." And as he said those words, it was as if I was him for a moment and I felt exactly how his heart felt and just how much he loved me. It was such an overwhelming love that encompassed my whole being that I was so taken aback. I knew he loved me but I had no idea he loved me that much. That night changed our lives. We both ended up crying and talking it over and decided that keeping our marriage strong and respecting and making each other happy was more important than a perfect house or getting our way. Since then, we haven't fought once and it's been 11 months, and our marriage is better than ever.
My husband, when he was younger, helped his dad build 3 of their houses in Hawaii from scratch so he knows a lot about building and construction so he will act as our general contractor, saving us about 15-20% of the cost of our house. And he will try to build as much as he can himself, which will probably save us another 20-30%, so we are basically building our house at 50% off or more.
So are you ready to see our land and our house design? Let's do it! Watch the video to see what our house will look like and let me know in the comments what you think!
Like this post? See similar posts:
Husband Renovates My Parents' Kitchen/Dining room
Ugly 70's Bathroom Renovation DIY
My Husband's Man Cave/Tool Shed DIY