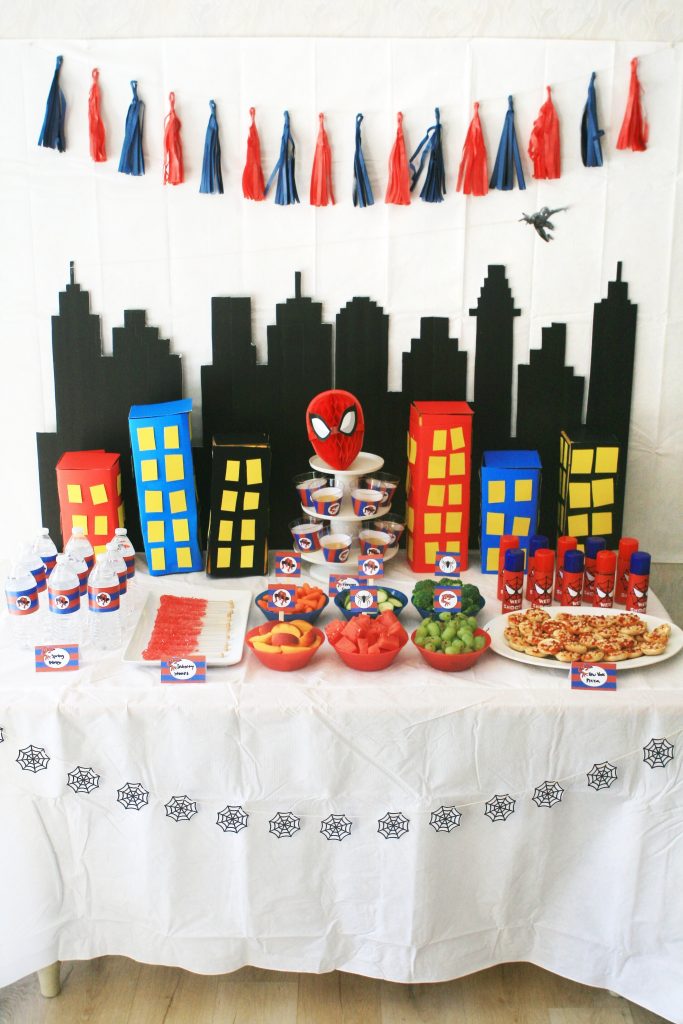 Learn how to throw this Spiderman party, keep reading below!
All the links to the printables are at the bottom of this post.
My son really wanted an at-home birthday party, even though I tried to push for an outside party like Nickel City where I don't have to prep or clean up and just have to bring cake and some vegetables and fruit and the place serves pizza and drinks.
So I hired my 10 year old daughter as my assistant as we went shopping together and she made the 3-D buildings and also the Spiderman! The spiderman she added was done at the very last minute, when I told her I felt like something was missing. Then she went and printed a black and white Spiderman and attached it to a white string and it was perfect! I would have never thought of that myself so I was so impressed with her creativity.
We got most of the party supplies from Zurchers but all the links are at the bottom of this post.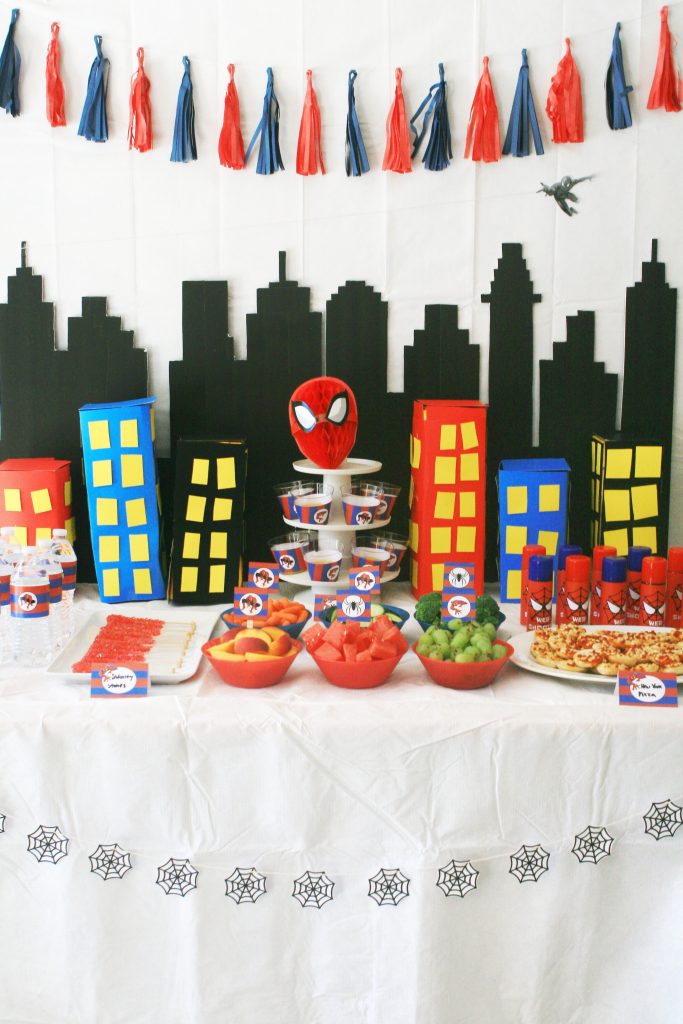 Spider web printables one | two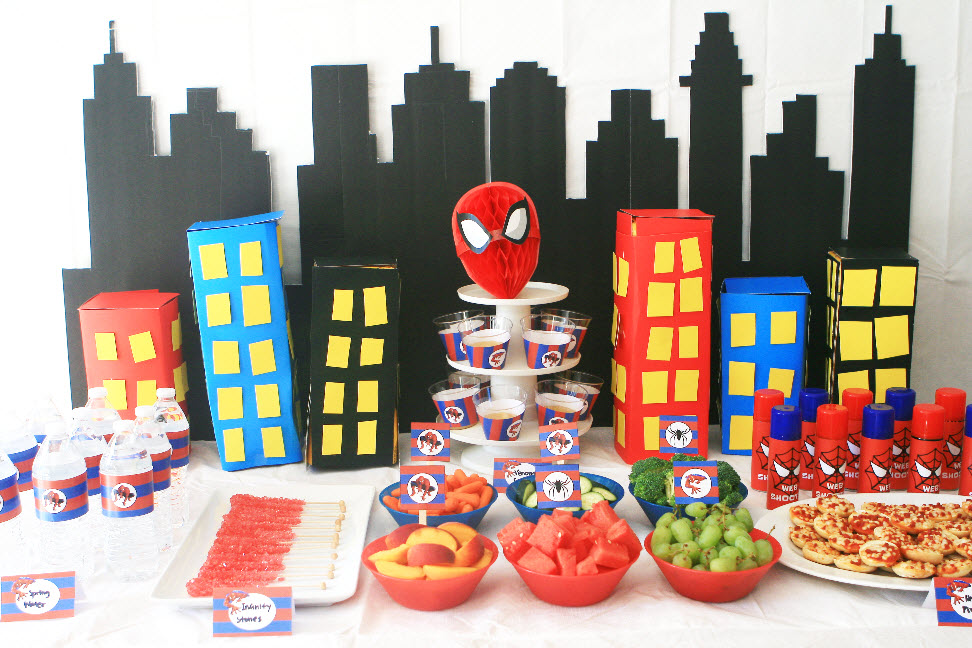 Using 3 black foam boards, I traced a cityscape with a pencil, then cut it with an exacto knife. For the buildings, we used the 12-pk. soda can boxes and covered it in paper, then added windows.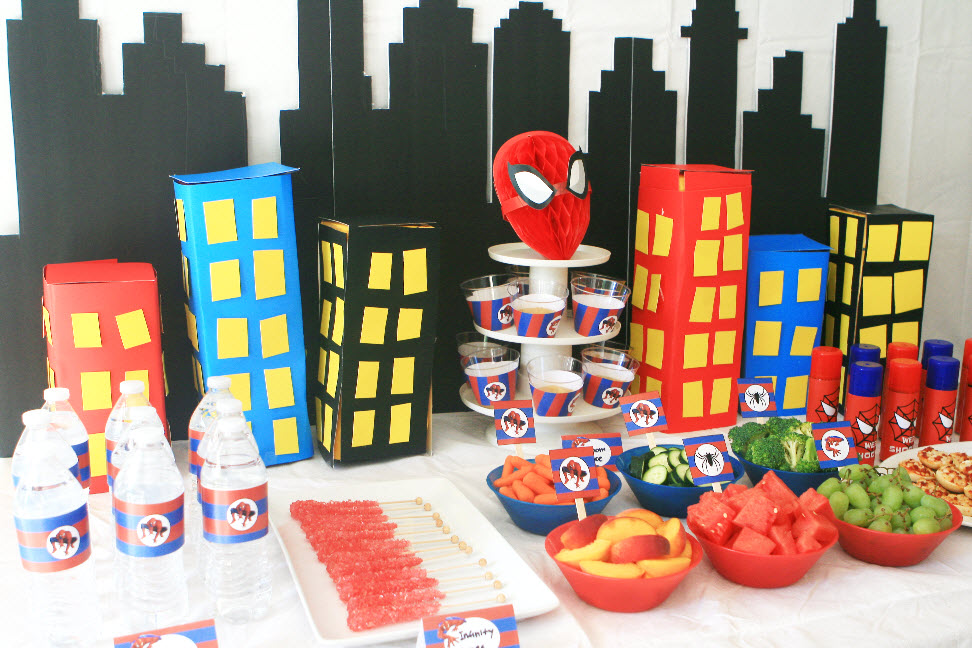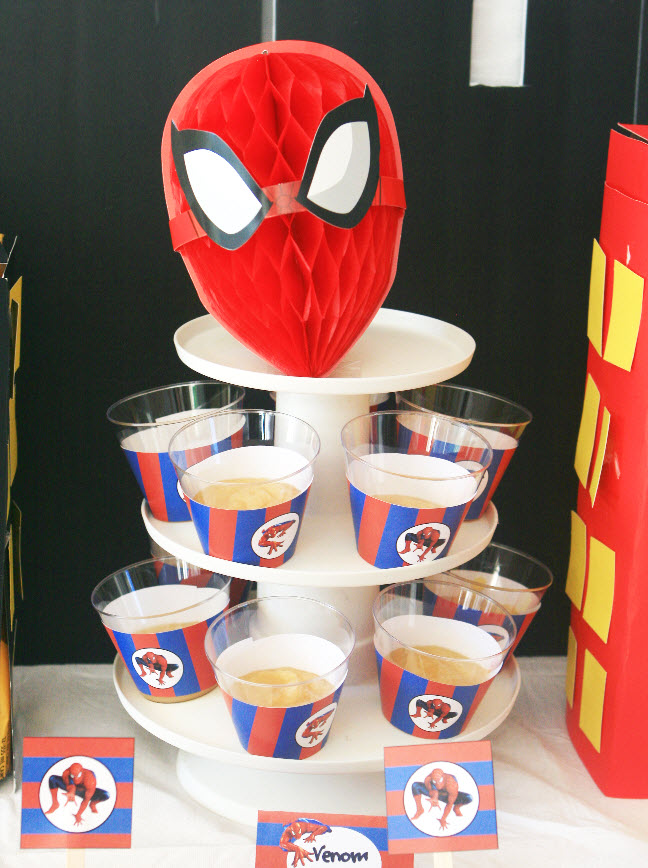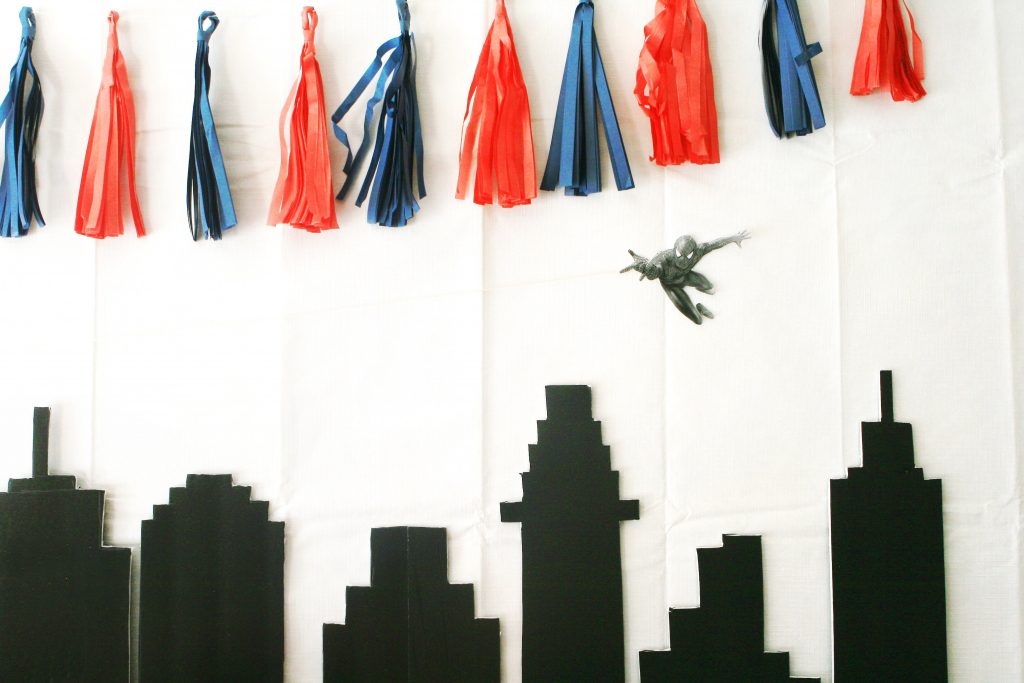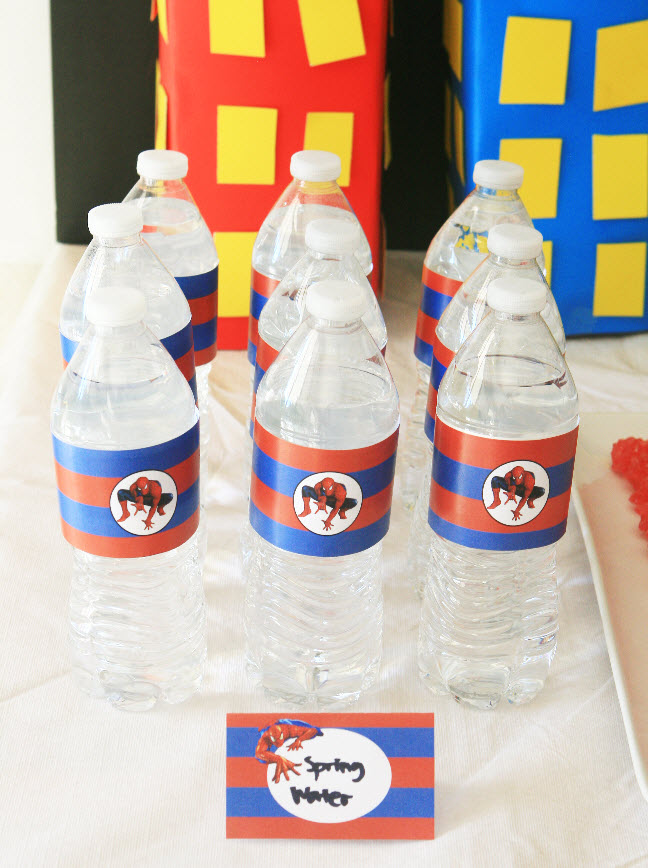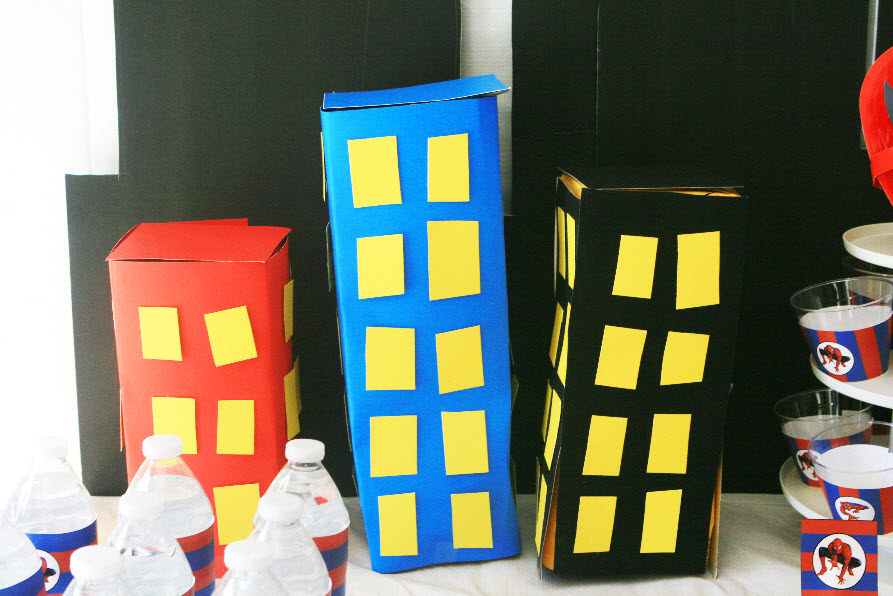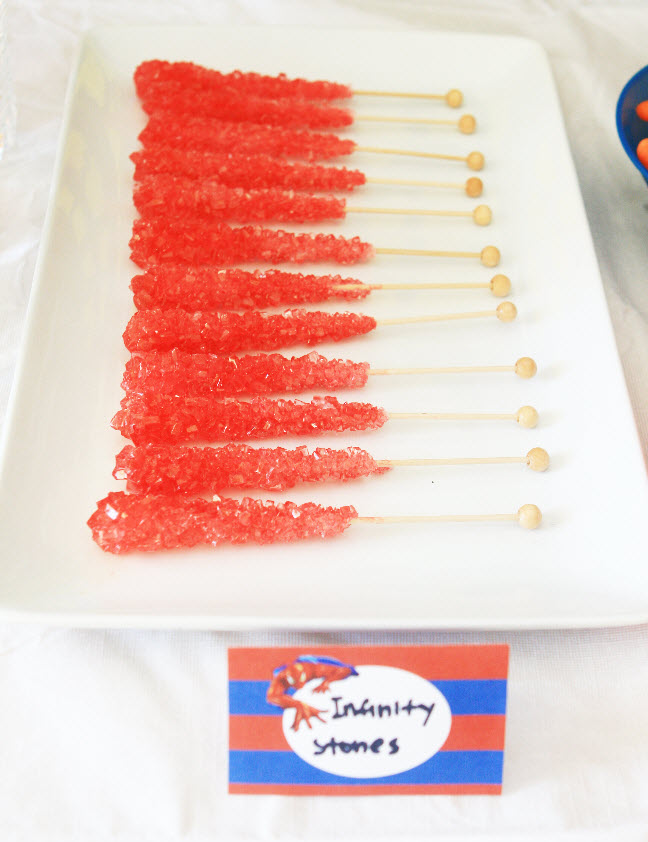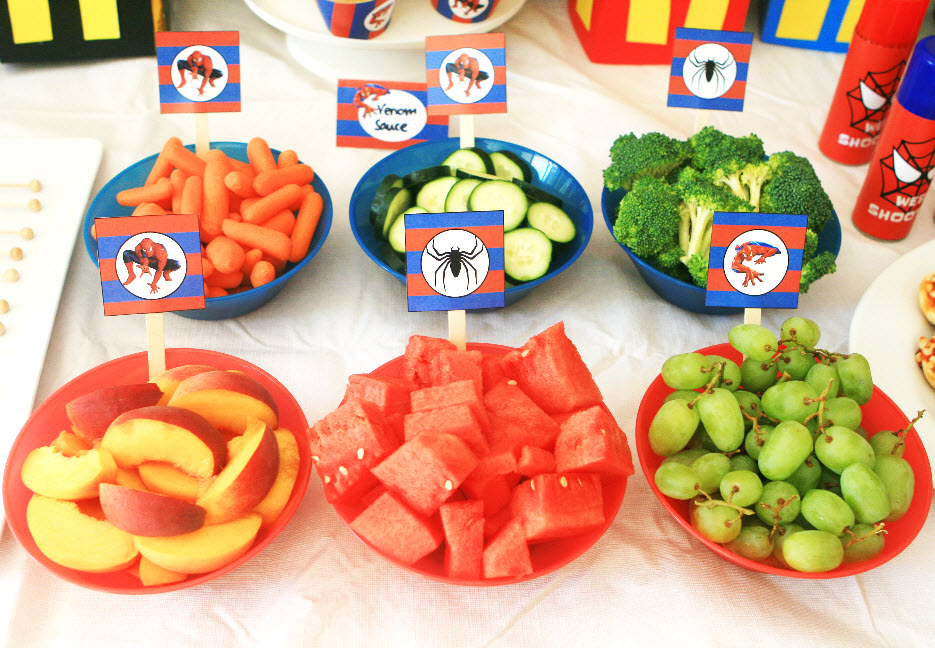 We had to have a lot of fruit and vegetables for the Superheroes that came to our party!
Bagel bite pizzas were a huge hit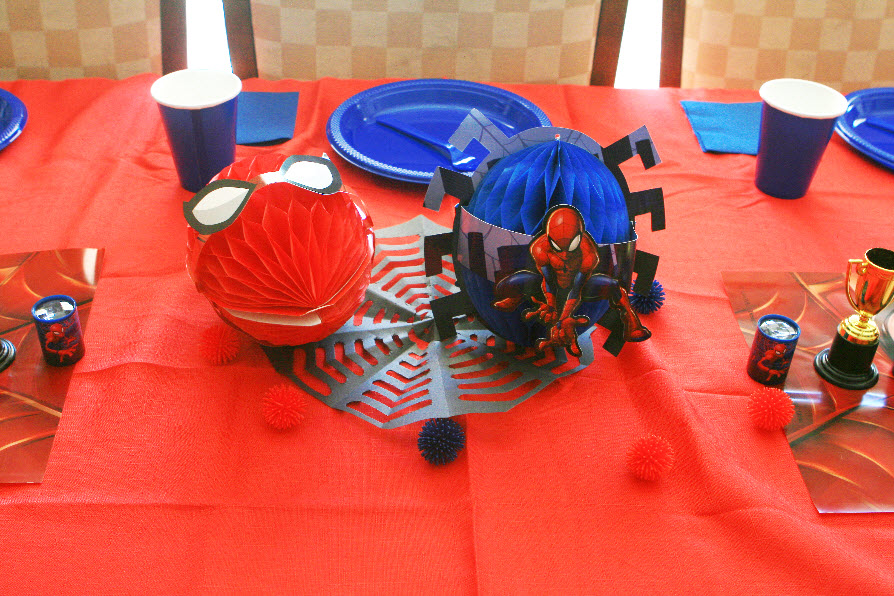 I made the black spider web for the centerpiece with black construction paper, using this tutorial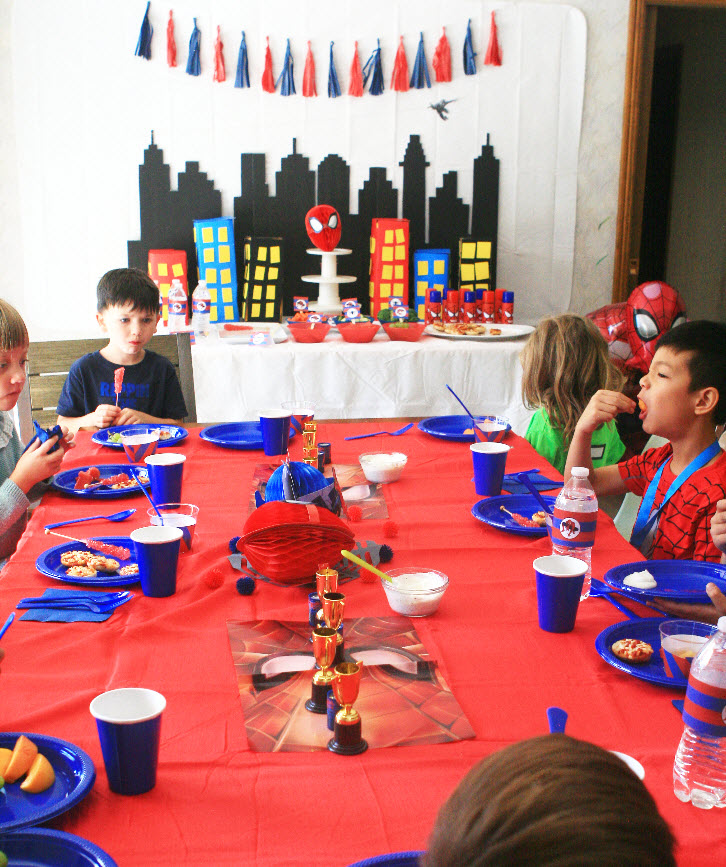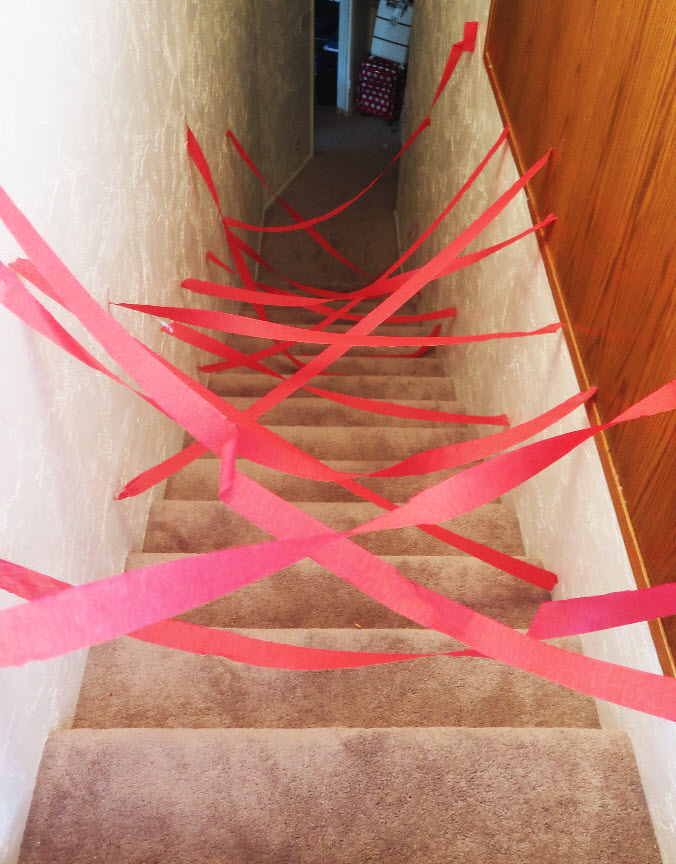 We played 3 games for the Spiderman party. The first game was we set up a security system with red crepe paper streamers where each Superhero had to go through the "red lasers" without touching or breaking it.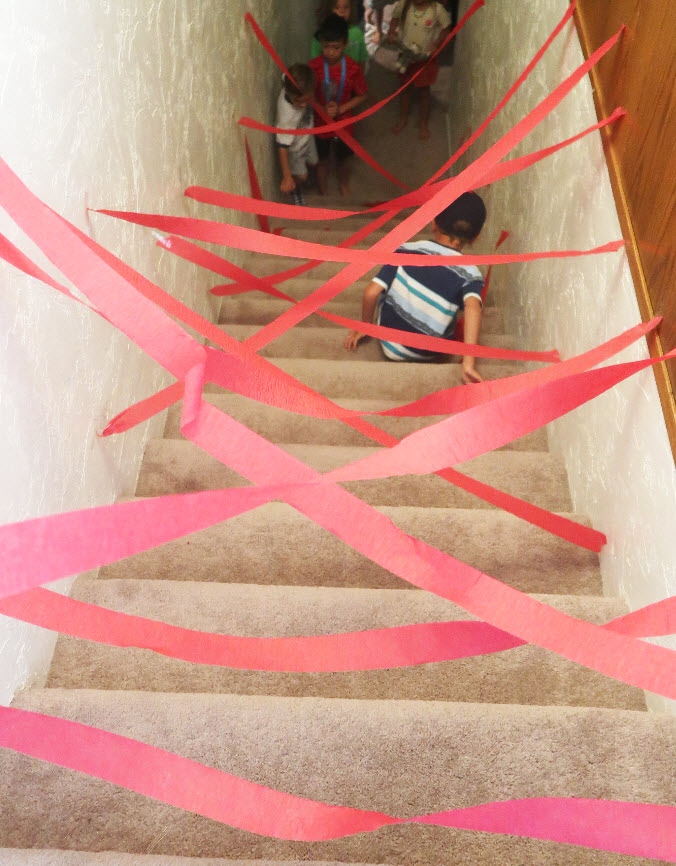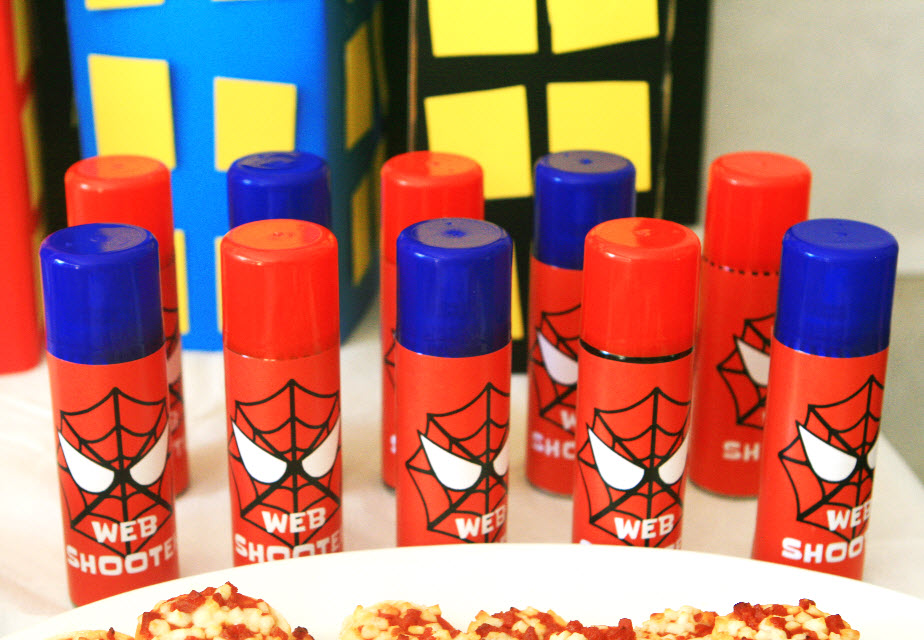 The second game was a "Spiderman web shooting fight" where each Superhero got a web shooter(silly string covered in Webshooter printables one | two) and had to fight each other. Team one got red, team two got the blue web shooters.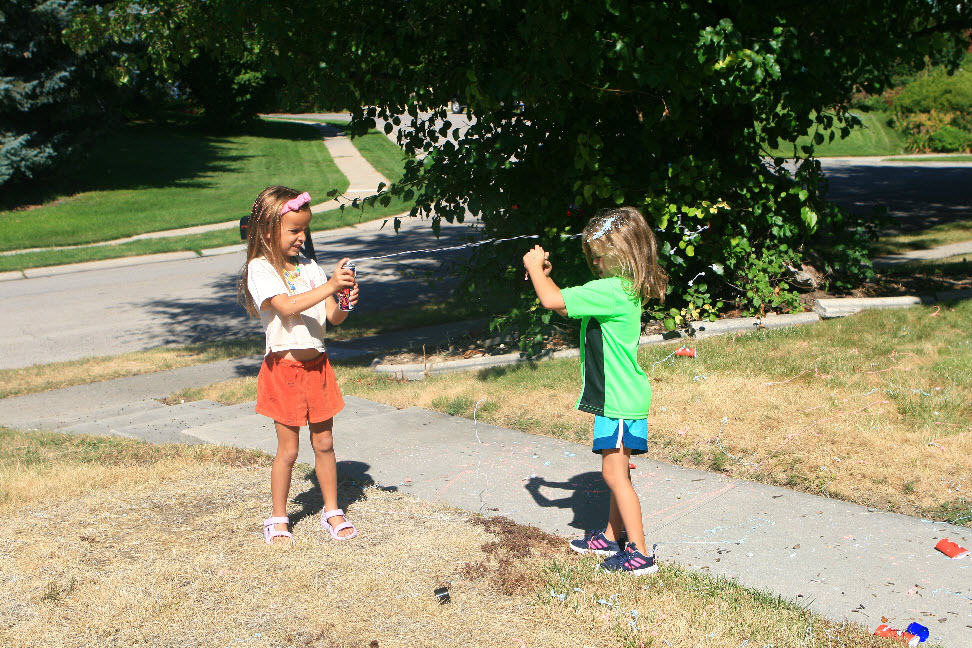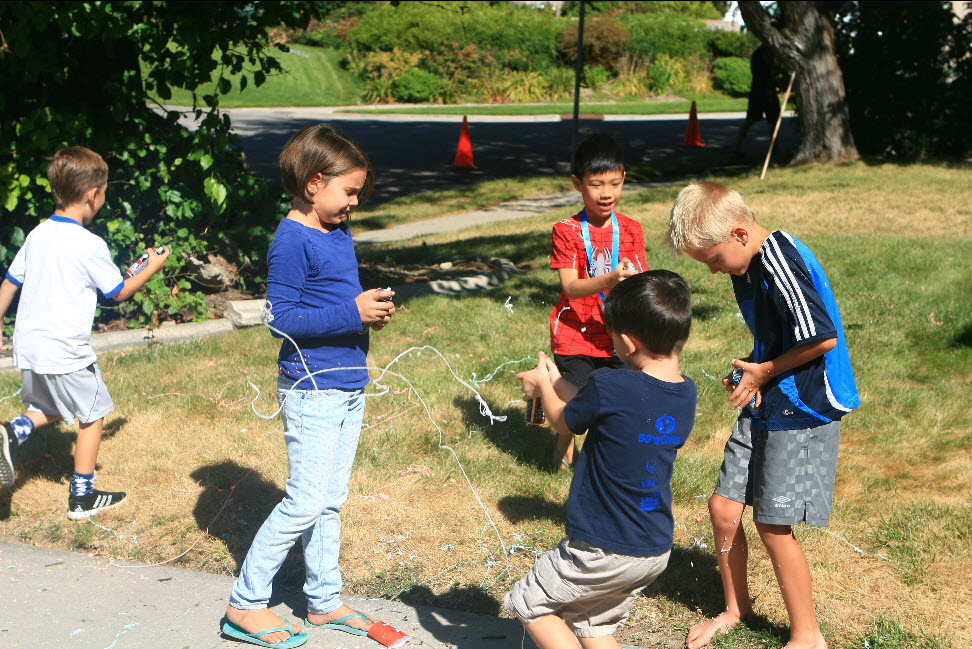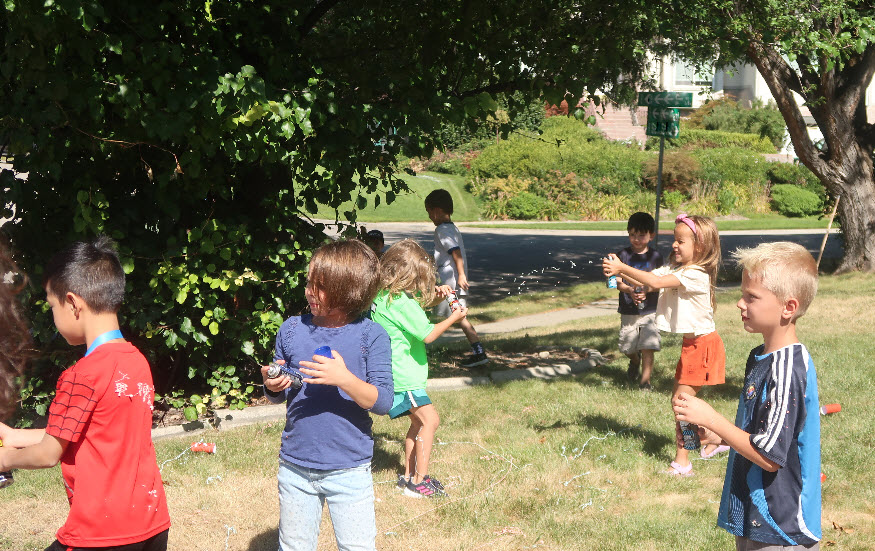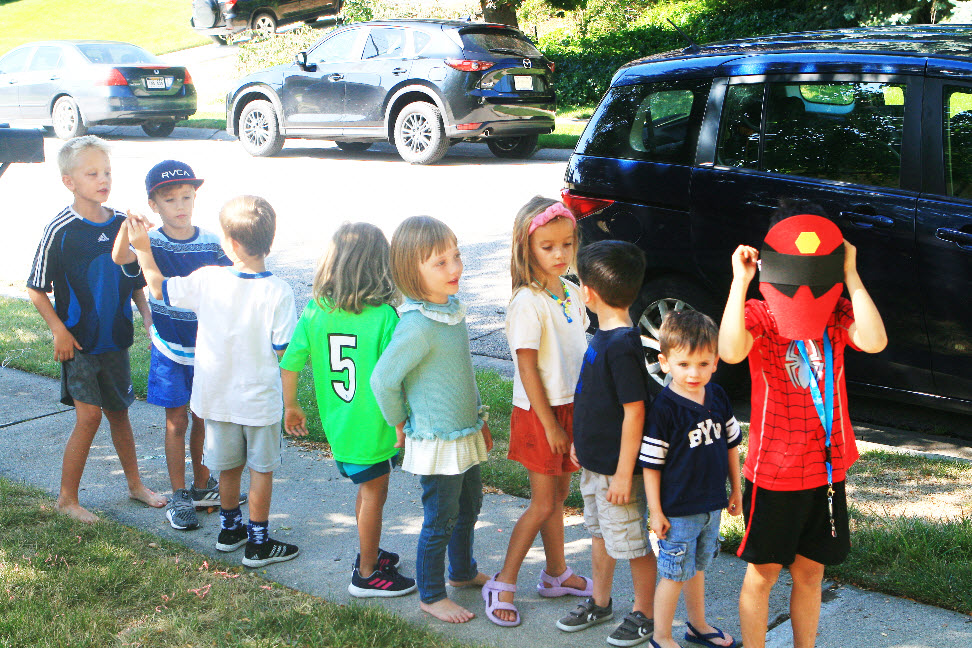 The third game was a pinata, of course! As requested by my 6-year old because what kid doesn't love a pinata?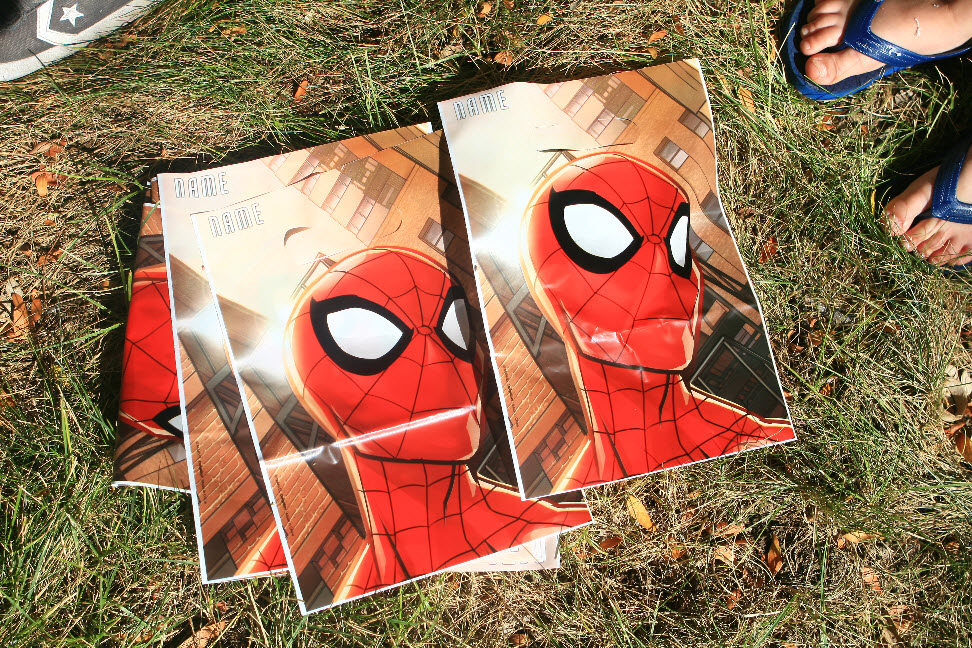 buy Spiderman loot bags here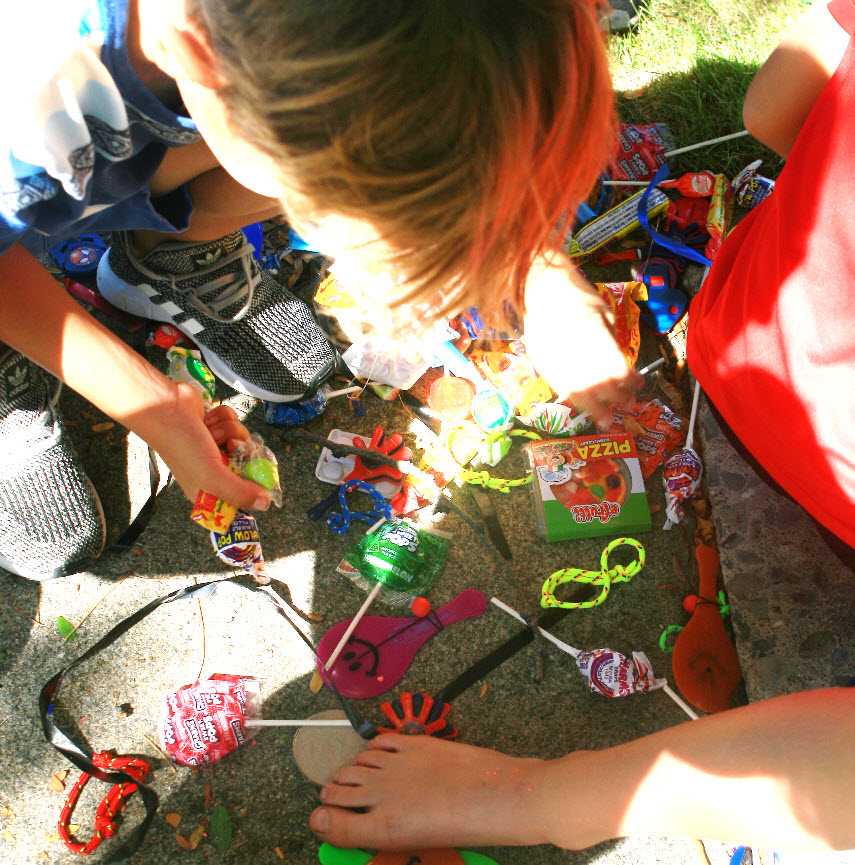 I made sure to mix in a lot of toys along with candy in the pinata.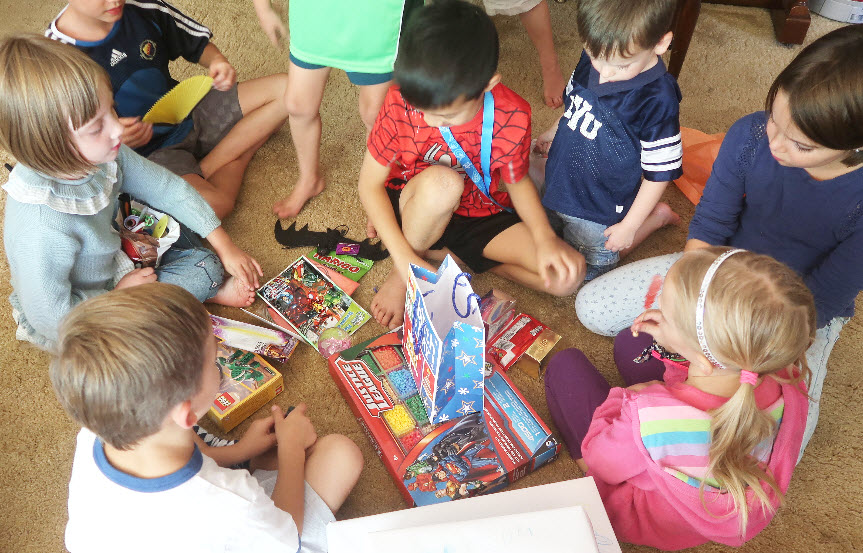 After the games, he opened all the presents. The kids love this part of the party as much as the birthday kid. The cutest part was when my son's little crush asked him, "Why aren't you opening my present?", without skipping a beat my son said, "I am saving the best for last." A smooth operator!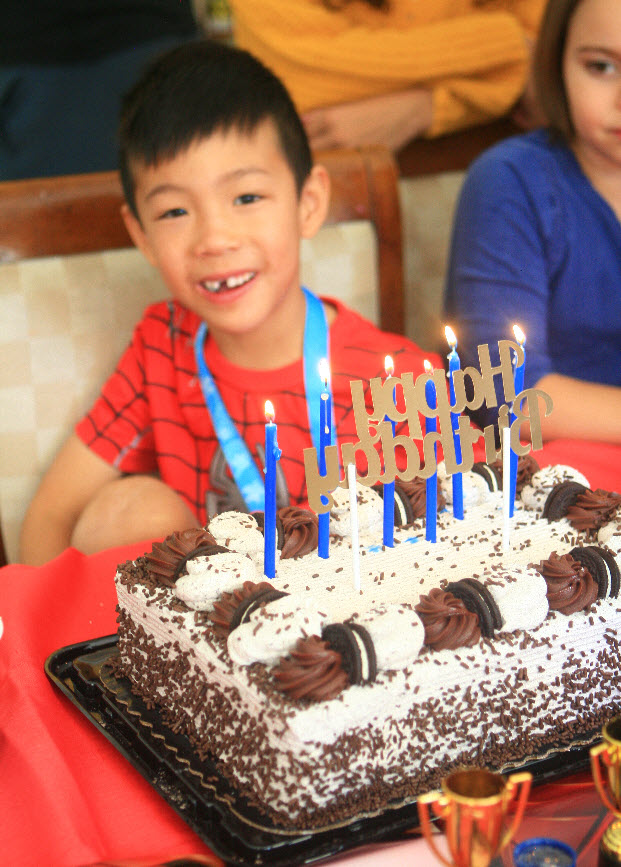 Then we finished the party with his favorite cake, an Oreo ice-cream cake. His older sister has had this same cake for her birthday parties every year in the last 5 years and it's his favorite too. Easy for me since I didn't have to make it!
Table decor:
Red tassel banner/blue tassel banner (the tassels are pre-strung so I took the tassels off and combined both color tassels in one-string together)
Cityscapes – I used 3 black foam boards and traced a cityscape with a pencil, then cut it using exacto knife
Buildings – using 12-pk. soda can boxes, we covered it in paper and added windows
Spiderman in action – printed a Spiderman in b/w and tied a white string to the top of the building
Spiderman party package printables for water bottle wrappers, food labels and cupcake toppers(but they have a ton of other printables like banners, thank you tags, mini favor bags)
Webshooter printables one | two
Spider web printables one | two
Pinata:
Pinata from Zurchers
Spiderman mega mix party favors
All the Spiderman decor, tablecloths, silly strings, tabelcloths, Spiderman utensils and plates, pinata toys and candy are from Zurchers. They have SO much more in store than what's listed on the website, I love going into the store, they have so many cute stuff and it's a one-stop-shop for all party things. Thank you to Zurcher's for providing all the party supplies!