DIY mint jeans
I think I am quoting many girls when I say, "I've been looking for mint jeans for spring!" I am very specific and picky about the color of mint I want, not too blue, not too green, not too dark, or not too light, more blue with a tint of green. I finally thought I found the color I was looking for(within my price range) and ordered two pairs of mint pants just to make sure I got the right color, but unfortunately
one
was a tad darker than I wanted(and too big), and the
other one
was too green for me. I've learned that in the pictures(in stores and in other blogs), the color always shows up more blue than it actually is.
So I've been on the hunt for mint jeans ever since and thought about dyeing my white jeans mint, but I've never dyed anything before so I was hesitant to try. Then I came across this, this, and this tutorial on dyeing your own mint jeans and after seeing others do it, I had the courage to try it. I decided to follow along the second tutorial since I liked the color her jeans turned out, but from the comments from the post, many people said they tried it and it turned out lime green(hers turned out super cute though:). So I decided to mix two colors together, green vert and aqua, 1/2 package each. And it was a FAIL. It turned out dark green, even though I soaked it for about 2 minutes. I was so disappointed! But I was determined to make the perfect mint color jeans, so I took the pants out, ran it in hot water, then soaked it in bleached water, then soaked it in straight up bleach, and the dark green came off and I was left with this light lime green color.
Then I ran a cycle in the washer with hot water + bleach and it got a little lighter.
The color wasn't bad, but I already own yellow/lime green pants, so I made the dye again but this time using the rest of the package of aqua and about 1/2 tsp. of green vert.
I soaked the lime green pants in it along with a white top I had. After seeing the color of the white top, I was satisfied with the color so after I took out the lime green pants and the white top, I put in a pair of white jeans. It looked too blue so I added 1/2 tsp. more of green vert and I ended up with a perfect mint color jeans the second time around! Not too blue, not too green, not too light, not too dark.
The jeans on the left is the one I dyed the first try(the lime green ones), and the right one is the one I dyed the second try. I wish I had gotten it right the first time, now I need to go shopping for some white jeans!
Mint jeans are so versatile, here are some outfits I put together.
(enter code: sarah20 for a 20% off from
sheinside
)
I also like these styles I found online,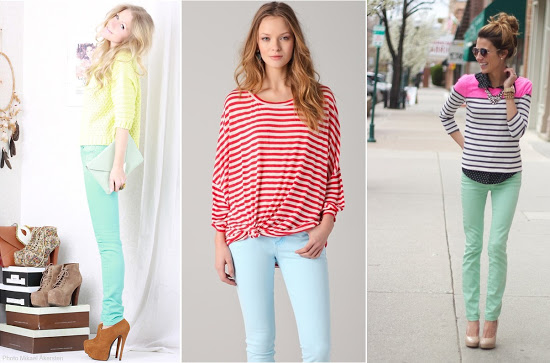 What you'll need:
-a pair of white jeans/pants
-1 pkg. of aqua dye and 1 pkg. of green vert dye
-a clean bucket
-1/4 c. salt
-1 gallon of steamy hot water
Directions:
1. Pour 1 gallon of steamy hot water into the bucket. Pour 1/4 c. salt, 1/2 pkg. of aqua dye, 1/2-1 tsp. green vert dye.
2. Put the white jeans into the bucket. Make sure the jeans submerges into the dye water completely. Mix continuously while checking the color. Pour more aqua dye or the green vert dye to make it the color you'd like(make sure the dye powder doesn't touch the clothes directly). If it's too dark, then add more water.
3. Leave it for approximately 45 minutes. (little or more depending on the color you want)
4. Put the clothes into the washer and run a cycle in cold water.
5. Let it air dry.
Estimated time: 2 hours
Budget: Low (mine was only $5 since I already had white jeans)
Skill level: Beginner
p.s. my next dye project? a mint jacket! I tried to dye it with the dye water that was left overnight from the mint jeans but it only turned it to a very light blue(go figure, it wasn't hot and the dye probably absorbed into the mint jeans already?) so I'll be dyeing it again to make it into a perfect mint jacket. 😉