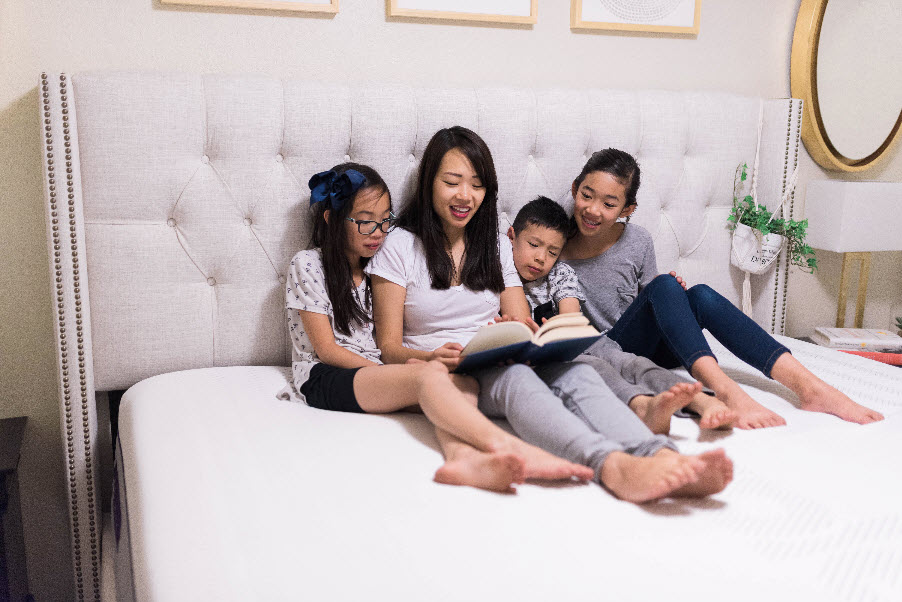 Here is a little sneak peek of the guestroom makeover before the full reveal! When I wanted to give our basement guestroom a makeover, I immediately knew I wanted a Purple mattress. Not just because they have that awesome video that went viral on Facebook and my kids wanted Purple just from watching Mallory from Studio C(which they're avid fans of) in that commercial, even though that was my first impression of Purple and a good one at that, I have a few friends who have Purple mattresses and they love it.
Then my friend Janet who reviews mattresses on her site and has reviewed plethora of mattresses, told me her favorite mattress out of all the ones she's tried is the Purple. I read somewhere that you need to hear or see the product 6 times before making the purchase and that sounds about right! Because that sealed the deal for me. So I am so excited to share my experience with the Purple mattress and so thankful they agreed to send me one to review!
One big worry I had though even before I even received the mattress was, "Would my mom like it?" You see, this makeover is solely inspired by my mom. After selling her house earlier this year, she stayed with us for several months and I felt bad our guestroom was so sad, with just a single mattress on the floor and nothing else in the room. So I wanted this room to look beautiful and inviting for my mom, not sad and cold like it was.
But the thing is, she hates mattresses. In her 70+ years in her life, she has never met a single mattress she likes. She's tried numerous ones but she hates it and says it hurts her back. So every single night of her life so far, she's slept on the hard floor! She did have this Korean stone bed once that had a thick layer of stone that heats up and is suppose to be good for your blood circulation, that she'd lay a thin blanket on top and sleep on. So I take that back, every single night of her life so far, she has never slept a night on a mattress.
But then I thought, oh, we will just move it to our bedroom if she doesn't end up liking it.
So we visited their warehouse and tried every single Purple bed ourselves, before making the purchase. We tried their Original Purple, Purple 2, Purple, 3 and Purple 4. Here are the Instastories I took during our visit that explains more the differences, Ruthie was the absolute sweetest and such a huge help. I am a very visual person and like to see it visually instead of reading about it so I think you'll find it helpful.
You might wonder what the difference is between the original Purple vs. Purple 2 when they are both 2 inches of the purple polymer. The biggest difference is, see how there is that nude color edge of foam around the new Purple? That makes it so that you can sit on the edge of the bed. Without it, like in the original Purple, if you try to sit on the edge of the bed to put socks on or to hang out, you will slowly slide down towards the floor.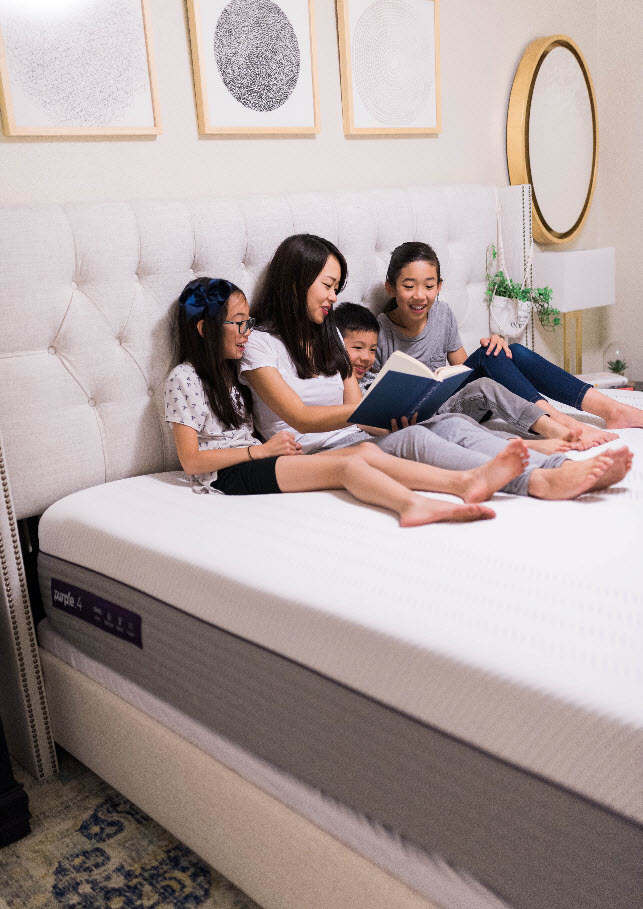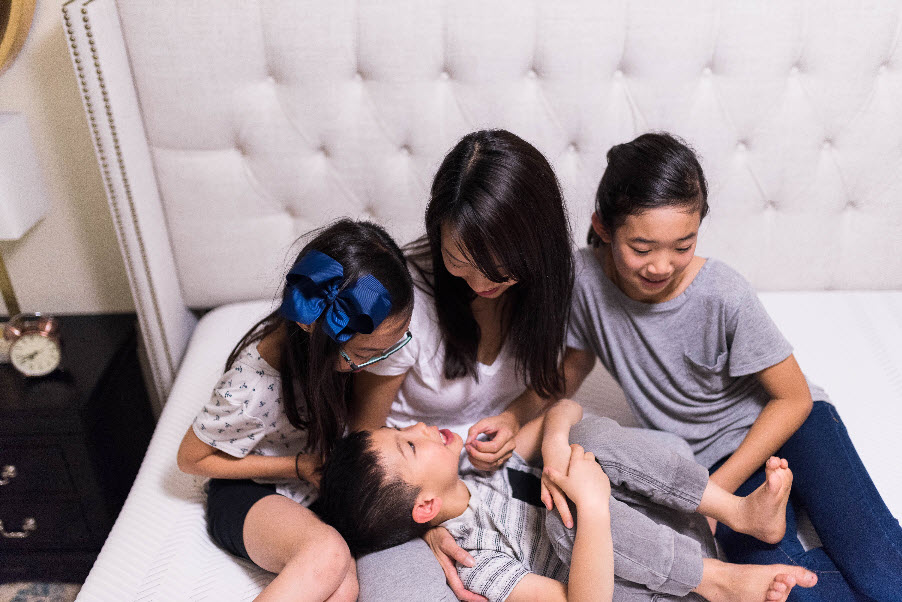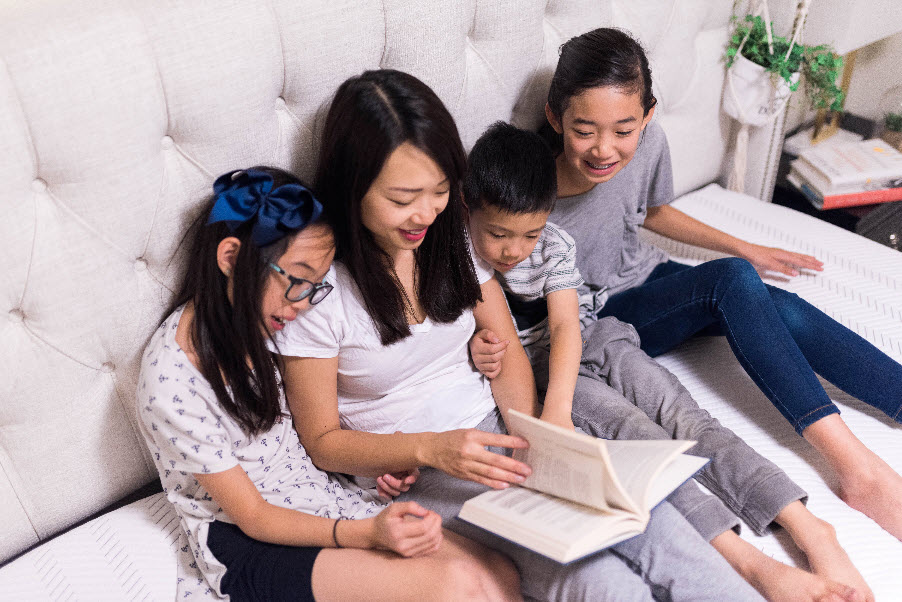 So which one did we decide to get? We got the Purple 4. I thought it would be best for Jay to have less pressure on his joints and I loved how I felt so light and as if I was floating! So what do I think of the Purple? I LOVE it. But I am very easy to please, I can sleep anywhere(except a hard floor) and I would sleep all through the night and my back would be completely fine the next morning. So I wasn't worried about me but Jay, being a super skeptic about everything and a person that's very hard to please, I was curious to see what he'd think.
I heard from some people that you might need a few days to a couple of weeks before your body gets used to it but from night one, it got Jay's approval! This is huge, guys! He never "approves" anything. I honestly thought his body would need some time to adjust to but from night one, he slept really well. And in his own words, "Yeah, I like it.", is a HUGE compliment!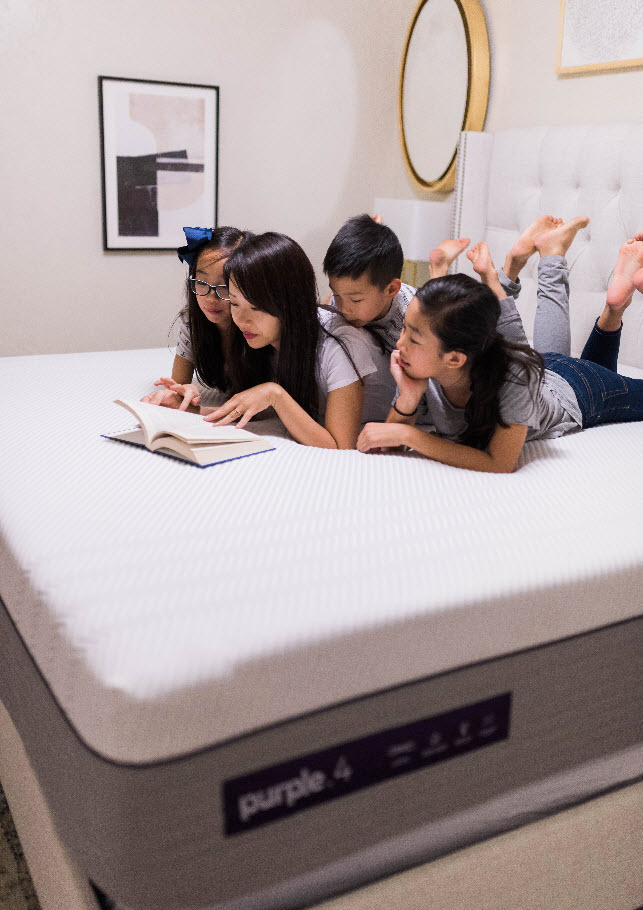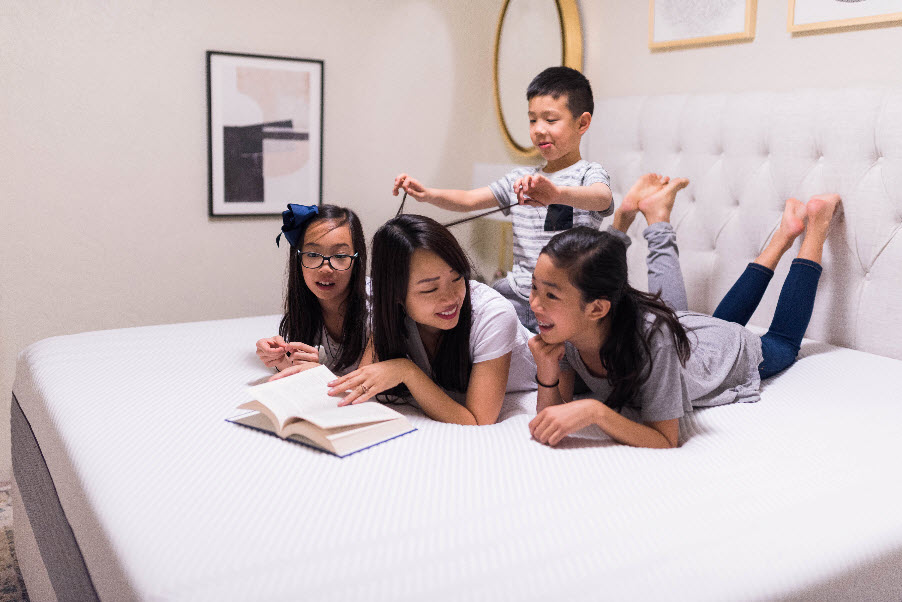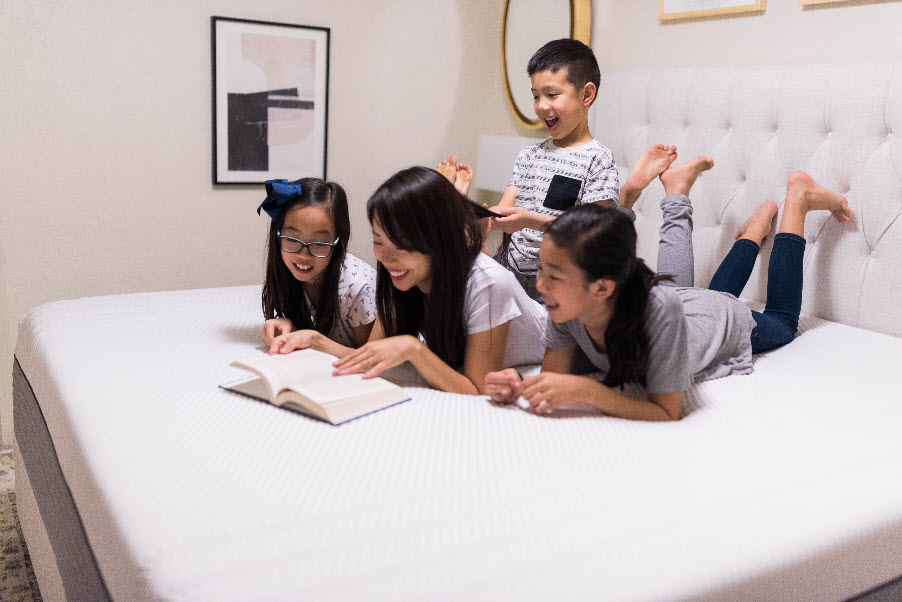 What did my mom think of it though? I expected her to just sleep on the floor, next to the mattress on the first night. But the next morning when I went to her room to ask her how the mattress was, she surprised me, no, I mean shocked me and told me as she rolled her shoulders back and felt her back, how she slept on the mattress all night and slept the whole night through and how her back doesn't hurt one bit and is completely fine! What??? This is insane! She was just as shocked as I was! We literally starred at each other with our mouths gaping open the whole time we had this conversation. A part of me was a little bummed because I expected her not to like it and we were going to move it to our bedroom to use for ourselves, but mostly I was so happy and glad!
She's slept on her Purple mattress every night since then and she loves it. She still can't believe it and still keeps saying how could this be? It really is mind boggling to me, for her to find a mattress that doesn't hurt her back, after 70+ years. Crazy!!! I guess that's how awesome the Purple mattresses are!
Purple has a new bed for pets now and I want one for my dog, Achilles! We also got the Mattress protector that is waterproof and very sturdy material, Purple sheets that are very stretchy to match the stretchiness of the purple polymer, Purple pillow that is very, very heavy but Jay loves it, he does put another pillow under it though to level his big, broad shoulders(he's a side sleeper), and the seat cushions.
Jay has the seat cushion in his office and I am sitting on it right now as I write this. The first time I used the seat cushion, my butt was a little sore! I guess my butt was getting used to it? But after the soreness went away, it is so nice and comfortable. I can sit in front of my computer for hours and not feel any discomfort.
So Purple gets my approval, Jay's approval and my mom's approval! I would recommend this to my sister and my best friends, which is why I recommend it to you, just like all the other products I feature on this blog and on my other channels. In order to share a product with you, I have to love it enough to recommend it to my own sister and my best friends. That's how I judge which brands or products I decide to work with.
I will also be giving away two Purple pillows + other products on my Instagram on Oct. 18th, so make sure you go and enter!
Let me know if you have any questions about Purple or if you have one or tried it, let me know what you think! They also have specials going on quiet frequently so watch out for those, like right now they're offering a FREE SHEET SET WITH ANY MATTRESS PURCHASE (UP TO $129 VALUE!)
Links to the products I've mentioned:
Original Purple mattress
Buy the new Purple here.
CLICK HERE to go see the full guest room makeover reveal!
*While I received no compensation, I received Purple products in exchange for this blog post.