I'm in love with pleats.  So I was ecstatic to find this when I was rummaging through my mom's closet.
My mom's out of the country for 6 months so I'm just hoping she won't notice it missing when she returns.
I'm so kidding!  I found this in the "old" clothes pile where she no longer wears it.  But mom, if you had changed your mind, I'm sorry…. you can borrow it anytime? 😉
the after:
Now, I knew you would ask for a tutorial so here it is.  You'll be surprised at how simple it is!
Directions:
1. Put the skirt over your head.  The elastic waist part will go around your neck.  To know how far along to cut the horizontal  lines(for the sleeves), mark where you want the sleeves to end.  Mine is about 2-3 inches above my elbows.  To know how far along to start the vertical lines, pinch the sides of the skirt to where your waist ends, and mark it, while making sure the pleats are not stretched out.  Leave an extra inch or two on each sides and mark it.  That's where you'll start cutting the skirt vertically.
2. Flip it inside out and sew the vertical lines on both sides.  Cut off the extra fabric.
3. Use fray check on the seam of the sleeves.
That's it! It's easy as 1,2,3!  You just pull it over your head and you're ready to go.  I made the belt using the extra fabric I cut. Or you can use a belt you already have.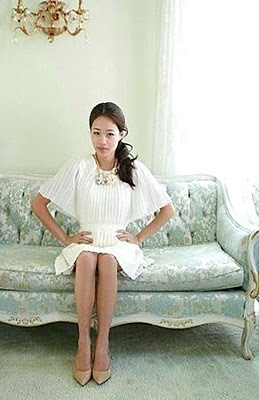 the necklace I made here.
Here are better photographs of the dress taken by
Jessica Peterson
.  These pictures were submitted to the dress design contest for Shabby Apple, and I won the contest!  For winning the contest, they have manufactured my designs and are now sold at their online store.  *update: they are sold out and no longer sell the dresses.
Now go see if you have any old skirts you can transform!
Estimated time: 30 mins.
Budget: $4
Skill level: very beginner
FAQ's
Q: How did you make the neckline?
A: I didn't!  I left it just as it is.  The elastic waist just fell nicely around my shoulders so I didn't change it.Q: What kind of lining does the skirt have?  Does it have a lining?
A.  No, it doesn't have a lining.  You'll need to wear something underneath like a slip because when you hold up your arms, it will show a huge chunk of your sides.  I wear a spaghetti strap tank dress under it that's similar to a slip.
Q: It looks too good to be true.  I wonder about the waistband and how it lays so perfect.  What size skirt would I buy?
A: More important than the size of the skirt, I would first try on the dress around my neck and see how the waistband falls around your shoulders and neck.  If it falls nicely, no need to change anything.  If it's too loose, you can sew one side of the skirt smaller(no need to sew two sides since the elastic waistband pleated skirt has no center/sides/back really.  If it's too tight, find another skirt.
Q: How long was the skirt when you started?
A: It hit my ankle bones when I had the skirt on regular.  You'll need an ankle length or longer to have the outcome as shown above.  If you don't mind the length shorter, go for it!  I think it'll be adorable shorter.
If you have anymore questions, feel free to ask me in the comments section or at sarahtyau at gmail dot com!