I've been on a Anthropologie kick lately and I have a lot more I'm planning on working on, so stay tuned! Many of you asked for tips or a tutorial and after I post the ones I've finished already(there's just one more), I will do my best to take pictures along the way and do a tutorial. Sound good? I bought these earrings for $4 at Charlotte Russe. It's kind of tacky but I knew it had potential.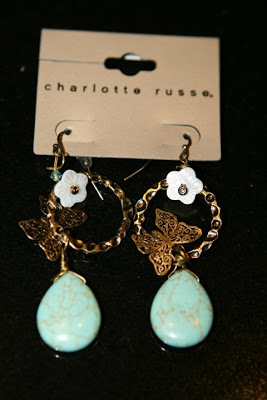 I just removed all the middle beads/jewels
and after. Simple and beautiful. It literally took me about 20 secs. to transform!
Now on to the Anthropologie shirt. I made a more simplified version of this Rare Bloom Tee.
The neckline of this was too low for me personally and I wanted something that could be worn casual or dressy. I bought two plain white t-shirts at Forever 21 for $3.50 each (at Gen X, it's $4) and used the fabric of one shirt to make the flowers. You can make up to 3 of these flowers using one shirt.
Wear it with jeans for a casual look
or tuck it under a skirt for a more dressy look. Just saved over $80. 😉