This post is sponsored by STAINMASTER™. Thank you for supporting this blog, it means so much to me.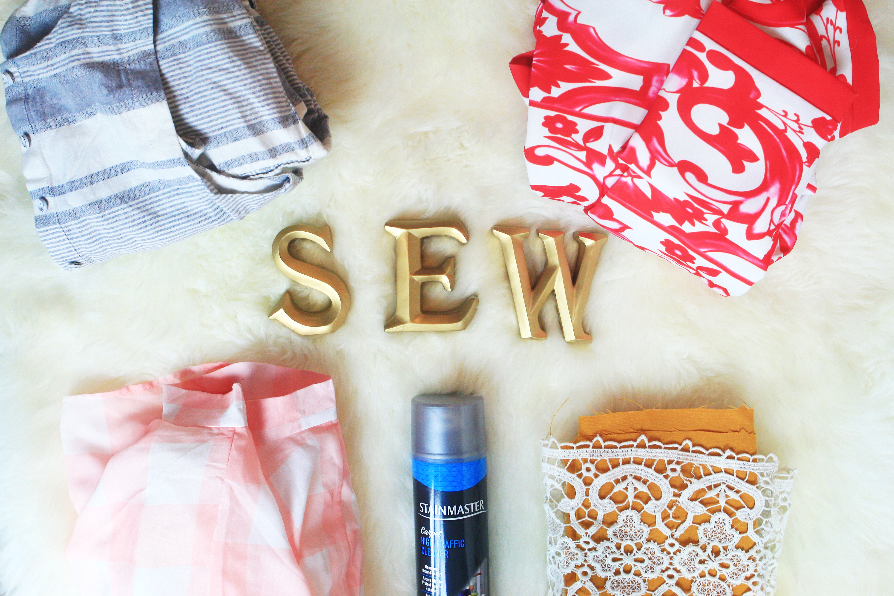 the behind the scenes of my staged photos. #bloggerlife!
As I've mentioned before, I do not love my house. I hate it actually. It's not just the carpet in our kitchen and the bathrooms, how I felt there isn't one part of the house that I think is cute or a representative of me, but it's much deeper which is too personal to get into. I talked more about it in my Life Lessons video, but I can't divulge further. I did finally get a beautiful sewing room but my dream sewing room is one that isn't in the basement but with lots of natural light and windows. My house didn't bother me until about a year ago, but when I realized we've been living in this house for 6 years instead of the 2 years I was told initially, not renovated, I became so unhappy! 
It was to the point that I didn't enjoy having people over for dinner, somewhat ashamed of our dirty, crayon-drawn wallpaper, nasty, nasty carpet in our kitchen, living room and the bathrooms, brown EVERYWHERE. Besides my sewing room, there isn't one spot that is decorated. Because every year I thought it would just be all torn down to be renovated, so why bother to decorate? I spend all day and all night in our house. I want to live in a home that I love! I am not asking for some giant, immaculate house, it could be a small, humble home, but if it's decorated and renovated to what I think is my style, I'd be happy.
So that was my mindset when one day a couple months ago while we were eating dinner in our carpeted kitchen, my son randomly got up and while running around the house exclaimed, 'I love this house, I love this house! I love this house!!!"
My first initial thought was a surprise. "You do? Ewww, I hate it." Then another thought replaced the first, "A home is not what it looks like, but what it feels like." I let that thought sit for awhile as I pondered it's truthfulness. My 2 year old son was so right! This is a wonderful home! Because a home is what it feels like. This is the only house my son has ever known. We raised him here, and my daughters moved here when they were just toddlers themselves, my second daughter when she still had that precious bald head that I miss so much! This is a home where my children feel safe, protected, encouraged, and loved. It is their safe haven. How sacred and beautiful is my home?!
I am so grateful for my now 3 year old's wise words. I am trying my best to appreciate this house and not complain, which I failed today, to be honest with you when my son spilled his whole cup of smoothie on the carpet and I got frustrated while cleaning it and cursed this dang carpet. but I am trying to remember his words, "I love this house!" and remind myself to choose to be happy, regardless of my circumstance and enjoying the journey along the way, and not being happy only when I get to my goal or dream. Because in the end, happiness really is a matter of choice.
During those frustrating moments of spilled messes, having a trusty product that makes cleaning the mess of the carpet easier helps to keep me calmer. And happier, it really does! I have been trying out the STAINMASTER™ Carpet Care products, particularly the High Traffic Cleaner in our kitchen since that is where it gets the most traffic in our home, and it works well to clean and remove tough stains. I love that there are no sticky residue left behind and leaves behind an invisible shield to repel dirt to protect against resoiling. It also has less foam than other high traffic cleaners so that I can see the soiled spots more easily.
I am very protective of my sewing room and don't let the kids play in it but sometimes I do find them sneaking in there and playing and it makes me not as stressed knowing that I have solid products I can use if something happens.
STAINMASTER™ Carpet Care collection includes the Stain Remover, Pet Stain Remover(with the Odor Remover), and the Rug Stain Remover as well. Found more about the products on their website: https://www.stainmaster.com/cleaners