My project this week:
I've been looking for an oval-shaped stone ring for awhile so when I saw these real Jade stone earrings, I was so excited! I just took out the earring post and bought a faux gold ring and attached to it. I bought a Krazy glue that's for metal to attach the stone to the ring but is there something better? The stone is quiet heavy so I'm afraid the glue won't hold it in as good. Maybe a glue gun would work? I would love to get tips from you amazing crafty mothers out there.
Anywho, since it was an earring set, I have one more jade stone ring so if you would like to purchase it, then click here. It's only $20. And plus, we can be BFF's and have the same ring! 😀
Onto my next project: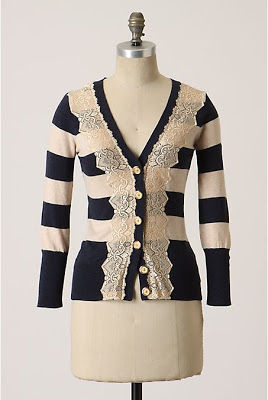 I was inspired by this cardigan from Anthropologie, priced at $118.
I bought this size XXL cardigan from Old Navy. (That was the only size left) And some lace.

Then I cut up the sides and the sleeves and sewed it back on after cutting the extra fabric.
Then I sewed on the lace about 1/5″ to the hem. I thought lace in the back around the neckline would be cute so I did that but the lace kept cuffing up and folding so I just cut it off. Then I used liquid stitch(my first time using it and it's awesome!) on the other edge part of the lace so it doesn't air up when I move.
And my result:

I thought about adding pearl buttons but it would make it look more dressy and it would take attention away from the lace so I decided to leave the original buttons to keep it a more simple/casual style. It's really light and soft so it can be worn in the summer, especially on cool summer nights.