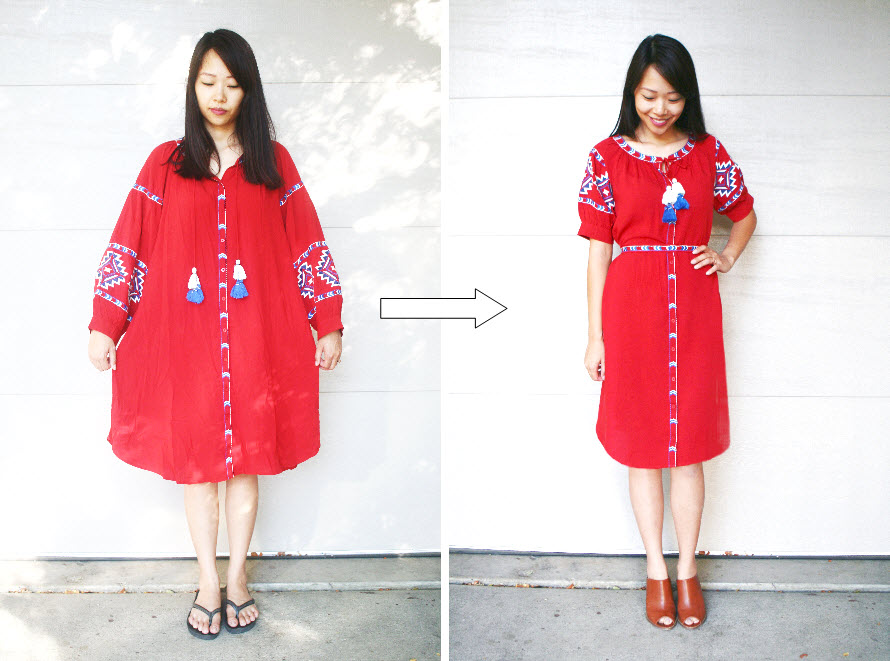 If you look at all of my refashions from the past few years, this is the "before" face I make. It's the face that's too timid to make any other face 'cause of a few saying how dare I be so disrespectful to plus sized, when I'm already stealing their size(this dress is size M, bought brand new at a store), mocking how ugly & big it is.
But I just wanted the before/after comparison to look more dramatic. So I wear no makeup, make a weird face wearing slippers(whether in size XS or large), then in the after, I'm all done up for the "transformation", like the before/after makeup ones where they're frowning & then smiling glamorously.
I hope you know that I have no ill-will or hatred in my heart. Ever. I have never hated anyone. I cannot live with an ounce of hatred in my heart, my soul just can't take it.
I hope you know that I appreciate you so much & care deeply about you. While I don't care about the # of followers, I care deeply about whether I bring positivity into your life or not. I want to be good & do good things. That, I care very deeply, as it is my biggest goal & purpose in life.
I don't get many negative comments, you're all so sweet to me. So getting 3-4 negative ones in the past 2 months have made me more annoyed than it should & I started caring more than I should.
'When you give too many f's – when you care about everyone & everything – you will feel that you're perpetually entitled to be comfortable and happy at all times, that everything is supposed to be just exactly the way you want it to be. This is sickness, and it will eat you alive. You will see every adversity as an injustice, every challenge as a failure, and every disagreement as a betrayal.' – Mark Manson
So I'm grateful for the few negative comments, as it helps me to better control my thoughts on where I should focus it on, which is to choose love. Always choose love, light & goodness. In myself and in others, whether I agree with their actions or not because that doesn't matter. What matters is love & kindness.
p.s. thank you so much to all your DM's, I got over a thousand! You're the best. I can't reply to each one but please know that I read each one & appreciate them.💗