This post is sponsored by Baskin-Robbins. I am sharing with you one of my most treasured memories made there!
A part of me wished my hand was moisturized and manicured, so this picture would be "Pinterest perfect" or "Instagram worthy" but then I realized, no, this is real life! I don't have time for that and I sure wouldn't pretend like I have time for that just to take a picture perfect photo. So yes, I have never gotten a manicure since I've been married, let alone paint my nails myself more than a dozen times. I hate doing any high maintenance stuff and this is me.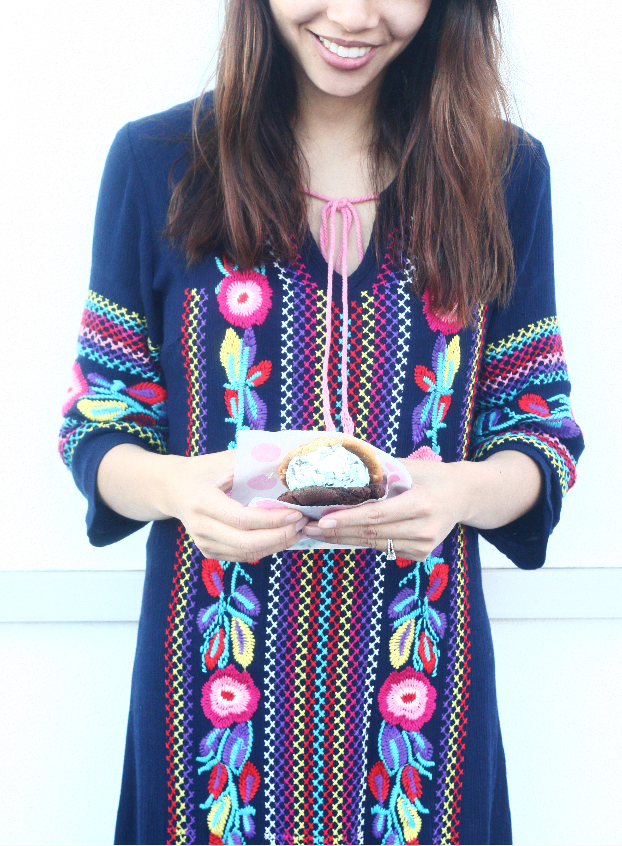 There is a Baskin-Robbins less than a mile away from our house. I grew up just a few miles away from where my house is now so I have many memories of growing up with Baskin-Robbins. My most treasured memories of Baskin-Robbins has to be the father-daughter date nights I went on with my dad where we would go biking and we'd both get our favorite ice-cream flavor which was(and still is) the strawberry cheesecake. I remember we'd talk about my fears, my dreams, my worries, what's going on in my life, my friends, any drama, and my dad would just sit and listen to all my stories.
Looking back though, the conversations were always about me and I wish I had asked my dad what his dreams and fears were! If there was anything he wanted to do in his life that he didn't get to do, if he liked his job that he worked so hard for to provide for his family, how being a father was to him and the hardships of being a parent, I feel guilty that it was always about me. As kids, we forget that our own parents have their wishes and dreams and fears and worries, just like we do. We are so self-absorbed in our own lives(at least I was) until we become parents of our own and realize all the things our parents have done and have sacrificed for us.
Luckily, my parents are both alive and I live just a few miles away from them. I try to visit several times a week and take them food, take them out to eat and such and it's been such a blessing to have them live so close to me. A few days ago we went for a drive to look at a model home and I asked my dad what were some things that he wanted to accomplish in life but never had the chance to. He told me that he wished he pursued more aggressively in his career and also in Church, to make a name for himself. I asked him why he didn't and he said he was so busy trying to provide for our family and being a father that he didn't have the time. But how those were more important to him so he has no regrets but if he could have had everything he wanted, those would have added to the things he accomplished in his life.
Listening to him say that he sacrificed his dreams broke my heart! Here I was complaining that mothers, especially stay at home mothers can't pursue career and give our all to it, and be as successful as we know we could be if we could give more of our dedication, time and focus into it, but dads are like that too! They sacrifice so much and work so hard to provide for their family too. Then my dad told me that he wanted to live with us along with my mom, when we move to another house so that he could help watch my toddler and help videotape my YouTube videos so that I could have it all, being a mother and staying at home and pursuing my passion and career. It made me tear up that no matter what age your children are, parents will always think of your needs and wants over theirs and are willing to sacrifice their time and everything to make your dreams come true. I am so grateful to have such a sweet, supportive, wise dad.
Looking back on my experience with my dad and how I wish I had known his dreams and fears when I was younger, to see him not as "my dad" but to be able to step outside of that perspective and see him as an individual being, so that I could have felt even closer to him and have a deeper relationship, I want to make sure that not only do I listen to my kids about their ambitions and fears, I want them to know mine too! I want them to be able to see me as not just their mother, but as a person. I believe we'd have a deeper connection and appreciation for each other.
So just like how my dad and I bonded over ice-cream when I was younger, I took my girls to Baskin-Robbins and tried their new Warm Cookie Ice Cream Sandwich. It's any flavor of ice-cream you want sandwiched between any of their 4 cookie flavors: Dark Chocolate Chunk, Double Fudge, Peanut Butter Chocolate, and White Chunk Macadamia. You can also add any topping of rainbow sprinkles, chocolate sprinkles, or chopped almonds and you can get a top and bottom cookies to be different! The trick to eating these is to not take out the Warm Cookie Ice Cream Sandwich out of the pink polka dot wrapper so that as you eat it and the ice-cream melts, it doesn't drip all over you but stays in the wrapper. My daughter learned that the hard way. 😉