They're both discussing the effect of gravity. very serious stuff over here.


Same facial expressions…
Same facial expressions…again. How cute. What are they looking at?
We were trying to get Malakai to smile but due to jet lag and such, all he gave us was this cute face. And Amanda is cracking up. 😀 She is such a cute mommy.
Is the sun a bit too strong for you Adi? Or are your eyes really that small… 😀
She was a little skeptical at first on the swing but soon enough she was loving it!

Haha he is just too cute.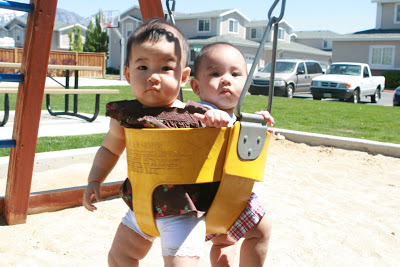 Smile for the camera! Or not… 🙂