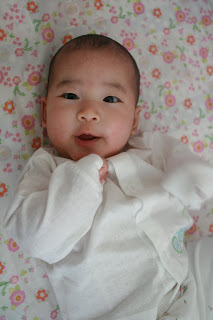 I was feeding Adi today on the boppy when I saw her face turn red and simultaneously heard a big SQUIRT from down below. I reluctantly looked down and there it was- a huge accident the size of Texas right on the boppy. Maybe even the size of our whole country was more like it. As I proceeded to wash the boppy and change her, I realized it had spread all the way to her mid-back, her thighs, my shirt, and my pants. I had a blast scrubbin' and washin' all of the mentioned above.
After I changed her diaper, I changed her into a white button-down top and white pants. I nursed her some more(had to compromise with a pillow instead of the boppy), and it wasn't long before she fell asleep on my lap. As I looked down at her, dressed in all white, I realized she truly looked like an angel. It was a
breathtaking sight and I couldn't take my eyes off of her for a long time. Then I realized, not only did she truly look like an angel, she truly is an angel. So fresh from heaven and God's presence and her giant spirit in her little earthly body. It is amazing to think what she will be and what she will accomplish as she gets older. When I think about how much I love her, my love for her is so immense that my heart feels like it'll burst because it can't contain it all. It's an overwhelming feeling but it amazes me that my love for her multiplies every moment and my heart is still intact.
She looked so beautiful and adorable, I didn't want to put her down on her crib. So I gently lifted her up to my chest and held her close to me as I kissed her and cuddled with her for the next 2 hours. Yes, even though she had pooped an insane amount and even got it on my clothes, she is still my lil' angel. I thank God for sending her to me.