THEN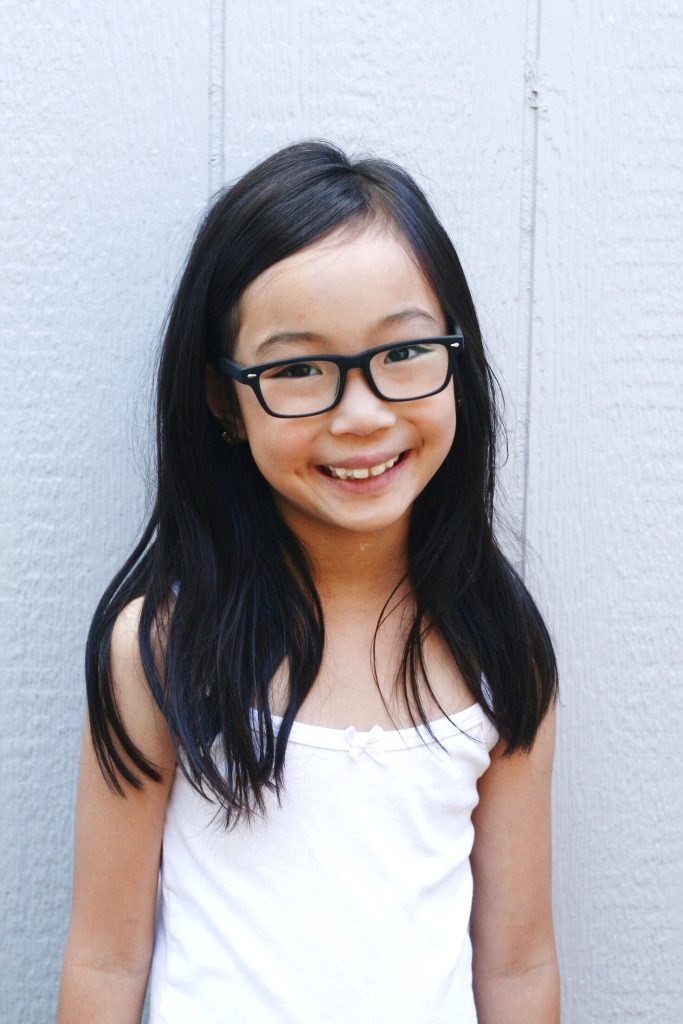 This photo was taken right when my daughter started wearing glasses, which was back in 2014 when she was just 5 years old. Looking back, she probably needed glasses sooner than that but we were pretty clueless when it came to eye health and vision care so it didn't even cross our minds to get her an eye exam. It wasn't until she got a vision screening at her school in Kindergarten and they informed us that she needed glasses that we took her to get a comprehensive eye exam!
VSP Vision Care, the largest not-for-profit vision benefits provider in the U.S, and market research agency YouGov recently released some very interesting findings that show just how many people are neglecting their eyes, because we don't know how much our eye health is tied to our overall health and don't realize the importance of getting an annual eye exam (even if you don't wear glasses or contacts). Let me know if this study below nails you on the spot, like it did to me. Guilty, guilty, guilty on all 3 for me, oops!
Eight in ten parents (83%) agree that a regular eye exam helps kids do their best in school, but four in ten (41%) wait until their child complains about their vision to schedule an eye exam.

Only one in ten parents (12%) knows that children should have their first eye exam at six-months of age.

Parents worry twice as much about their children's dental problems (15%) than their vision issues (7%).
I had no idea children should have their first eye exam at only 6 months old, did you know that? And I took all 3 of my kids to a dentist before the age of 2 but never even thought about taking them for an eye exam. I wish I knew this sooner but that is why I am passionate about raising this awareness because most people still don't know but once you know better, you do better.
NOW
4 years later, we take her to get an eye exam every year to make sure her prescription glasses are up to date and we thought we were doing great with her vision care. But little did we know about a thing called vision therapy, and I am assuming you haven't heard of it either because every mother I've talked to has never heard about it either. So let me tell you our experience and I hope it helps you!
Our daughter has always struggled with reading. She was still young so we didn't worry too much about it at first but year after year, she was always put in the reading program for kids who weren't up to reading at their grade level. So by the time she was in 3rd grade(last year), I started to seriously worry and stress about it. I mean, I am Asian after all where an A- is an Asian F, so this was not acceptable! She is a very bright, intelligent girl so we felt more frustrated and helpless, since we didn't understand why reading was a struggle for her. We thought it was just due to the lack of practice so we read a lot more with her, had her read more on her own, had her practice blending sounds and doing reading games on the computer, but it wasn't getting better.
Feeling totally at a loss, I posted on my Facebook asking if anyone knew of a reading tutor or some kind of a reading program that would help my daughter to read. Then my neighbor who saw my post texted me and asked, "Have you heard of vision therapy? My son is doing it right now after hearing about it from a friend whose son struggled to read and it turned out that his brain and his eyes needed a restructure in order to work correctly together." I thought what? What the heck is she talking about? So I asked her a few more questions and honestly, the term vision therapy was so foreign to me, I was still so confused of what it was!
I took my daughter for a free consultation and it ended up being a life changing decision for her my daughter and I am so glad my neighbor told me about it! The doctor performed many tests at the consultation to see if she would be a candidate for vision therapy. One test that sold me was, my daughter put on these special glasses that measured and followed the movement of her pupils, which showed in red dots on the computer screen.
Before having her read, he had me look at his eyes when he read a page in a book and asked me how his eyes moved. I told him it went from left to right, then left to right, and over again. He told us that is how our eyes should move. He then had my daughter read a page from a book and then showed us on the computer how her eyes were moving, with red dots pointing to the words of where her pupils were looking. To my dismay, her eyes moved all over the place! Instead of moving left to right, it started from the middle, end, beginning, then end, middle and end, then beginning, end, middle, middle, end and beginning. There was no pattern and she was going back and forth on the letters over and over again.
My daughter loved going to therapy too, they did yoga exercises (helps you to balance your body which helps your brain and eye coordination), played computer games that exercised the eyes and the brain, and other exercises to prove the eye-brain connection in order to make eye movements easier and more efficient.
I am so passionate that every child should learn to read because if you can't read when you are a kid, you lose a lot of confidence and by 4th grade, if you don't read well, you get so behind in school. Because up to 3rd grade, they focus on reading. But starting in 4th grade, that's when their studies get intense and they stop focusing on reading but really start to learn about all the other subjects in depth. You might get made fun of, get behind in school, can't learn because you need to read in order to learn anything else in school, then what are you going to do? You are going to feel incompetent, insecure and stop focusing on school.
While vision therapy really helped my daughter get to where she is with her reading, her initial eye exam really was the first step addressing the issue. So if you have a child or know of anyone (kids or adults) that struggle with reading, recommend them to see an eye doctor first and then consider finding a clinic that offers vision therapy.
Vision care is so essential for overall health and wellness and right now is the perfect time to enroll in vision care, where most enrollment periods are in late summer to fall. If you don't sign up during the open enrollment period, you can also sign up at other times if you experience a life change such as marriage or childbirth. Click here to
find out more about eye health and
VSP Vision Care.
This blog post is sponsored by VSP® Vision Care, the leading provider in vision care and coverage, providing access to care for more than 88 million members. Visit
SeeMuchMore.com
, or talk to your employer to enroll with VSP this open enrollment season.