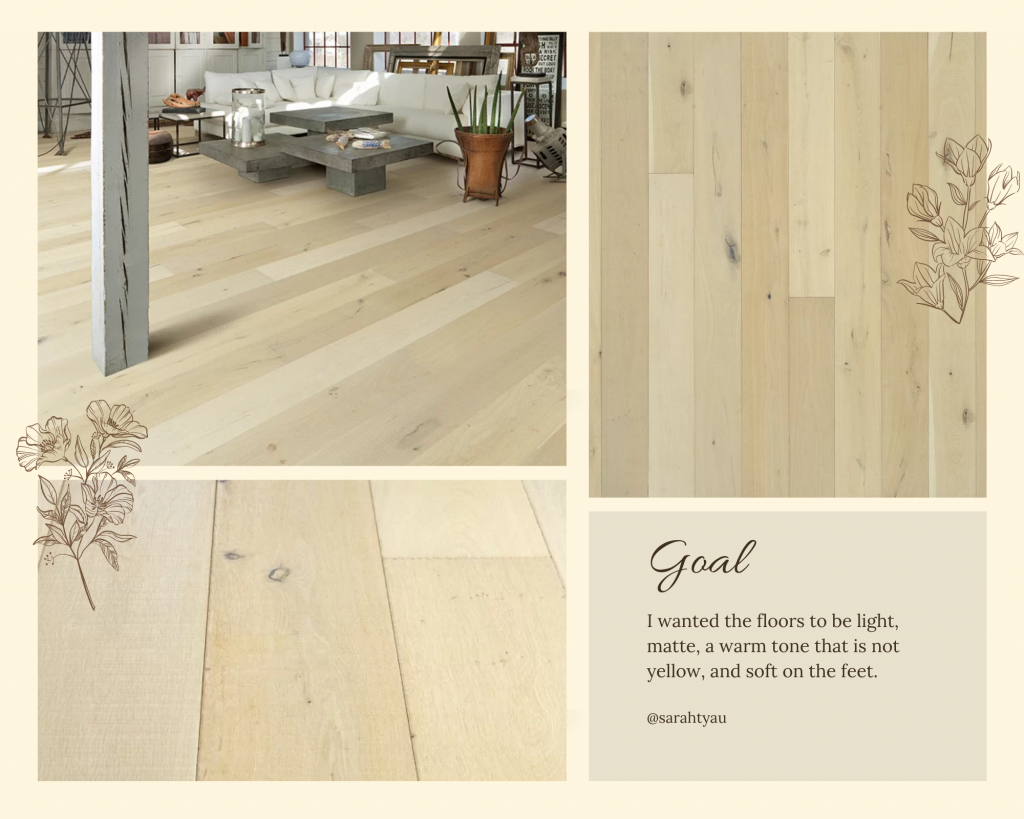 We wanted solid hardwood floors in the entire house except for the bathrooms(of course), the entryway and the mudroom. Carpets sure are cozy and soft and nice to lay down or sit on, but I like that with wood floors, there will be less allergies and things can't be buried deep underneath the carpet.
I've also had my fair share of having carpets in our bathrooms and kitchen, yes, that's right, carpets! I had to potty train all 3 of my kids in the carpeted floors and just imagine how fun it is, having to clean up any accidents! Yeah, I never want to experience that ever again. The funny thing is, we STILL have carpet in one of our main bathrooms in our current house right now. I will not miss it.
I knew I wanted light, matte, warm but not yellow color that is clean, simple yet elegant, and soft to the touch. I also wanted a color that was as close to the color we have in our current kitchen and the dining room. After much online browsing and looking in stores, we chose Ginger lily oak from Hallmark Floors. I just love that the light color will brighten up the whole space by reflecting more sunlight and it checked off all the boxes! It's perfect!
We were debating whether to get prefinished wood floors or the finished wood floors and after doing some research, I felt better going with the finished wood floors because:
1. They emit no toxic or smell in your home as it was stained previously and had plenty of time to cure.
2. They have thicker coating so it is more stain-resistant and scratch-resistant.
But I do love that the prefinished wood have no seams with a smooth coating, so not only do you not have to worry about moisture instrusion between the seams, but I prefer the no seam look, so I get the appeal of both!
Here are the benefits of the flooring that we picked out:
Benefits
FASHION
Handcrafted texture
Replicated real driftwood, barn wood and ancient wood texture
PERFORMANCE
Color goes all the way through to the core
Ultra thick wear layer provides lasting durability
Easier to repair or touch up if an accident occurs
MG3 – 2 sandings
INDOOR AIR QUALITY
Truecore® 2 – Core material made with quarter sawn pine lamella's
Doesn't that sound amazing? We can't wait to see this floor all over our home!!!