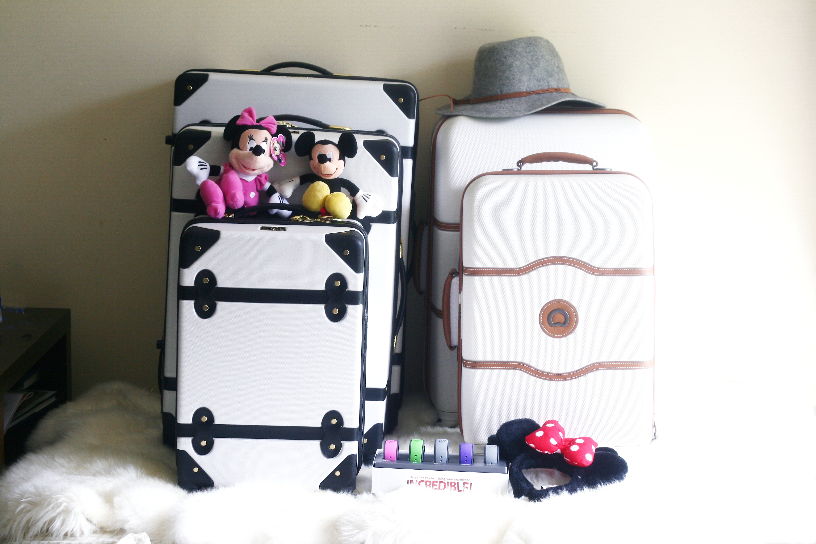 Luggage set: (left) one | two | three || (right) one | two
In just 2 days we are going to Orlando, Florida to attend Disney Social Moms Celebration! My whole family is coming with me, and my in-laws as well, it's going to be a party!
We had originally planned to take a RV trip in May, something we've always wanted to do, and we had everything booked through AccessRV, and we just needed to buy our airplane tickets to pick up the RV. But then I got an invitation for Disney Social Moms Celebration which happened to fall at the same time as our RV trip, so we had to cancel our RV trip, since Disney Social Moms is like once in a lifetime opportunity(I heard you can only attend up to 3 times in your lifetime). AccessRV was way more than understanding and accommodating and we put a rain check on our RV trip until next year!
To plan for Disney Social Moms Celebration, I researched and read lots of Disney travel blogs and asked questions on Facebook and Instagram for opinions and must-do's and must packs, and it got really overwhelming! The conference is 4 days long but we are staying 4 extra days afterwards so we can explore more of Disney World. I googled "Disney travel agents" and came across Park Savers and they had 4.9 stars out of 5 stars on reviews so I contacted them to help me plan my Disney trip! They help you save a lot of money and take out the stress and the hassle for you by planning your ticket + hotel offers. One misconception that my friends and family thought was that Disney Social Moms Celebration is free, which is not the case. I had to pay a conference fee to attend, then each family member I brought with me also had to pay a fee. And the expense kept getting added up such as a rental car, memory pass, and airfare and we are spending a big chunk of our own money for the trip, especially since we are staying extra 4 days. But for the VIP treatment we will get and the rare experience of attending Disney Social Moms Celebration is so worth it, I am so excited! But I recommend using a Disney travel agent like Park Savers to save as much money as you can on hotel + park passes, and to take a load of stress and time off your shoulders! Planning a family trip is SO time consuming! I am a huge fan of cruises because of this, you don't have to plan out where to eat or what to do until you board the ship pretty much, which is awesome. I still dream of our Disney Cruise trip we went on 3 years ago, I am crossing my fingers we'll get to go within a few years. 😉