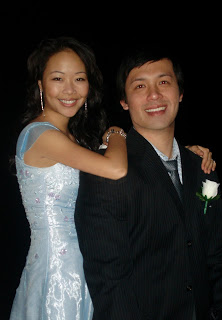 Our ward had a Blast from the Past prom night for a Valentine's activity last Saturday. It was quiet interesting I have to admit since the majority of the members in our ward are triple our age.
Even though we kept on making fun of it and saying we were so glad we didn't bring our friends with us to the activity, and despite us standing awkwardly on the dance floor for the first 5 mins. (because all the music was from the 50's and the 60's and we had no idea how to dance to it), we had a good time.
All the eyes were on Jay the whole dance because he was so dramatic, with him getting down on his knee, mouthing the words of the songs to me with his arms stretched out, or him doing his silly dance moves that's impossible to explain in words. I wish you were there to see it, you would've had quiet a blast just watching him. He has a way of making the best out of situations and that's just one of the many things I admire about him.
Thanks Josh & Jaymie for babysitting Adi!