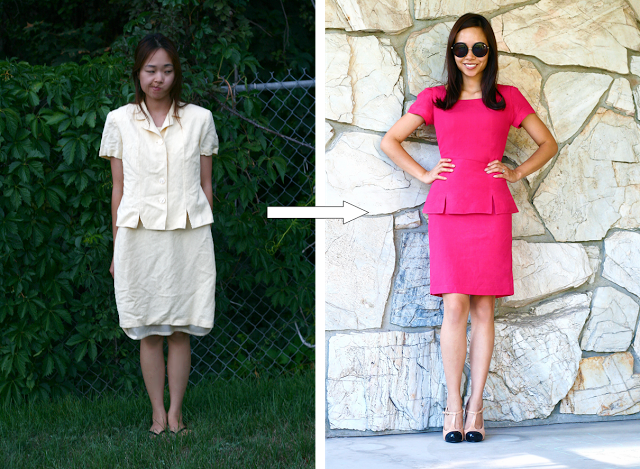 Hello guys! For Refashion Runway challenge 4, we were to make a maxi skirt or a dress.
I got this really outdated, oversized, faded yellow dress suit from a thrift store. I am still in love with peplum design clothes, I think peplums are so flattering on many body types as it accentuates the waist-to hips ratio and by helping to make your waist look slimmer. After debating whether to dye this dress to a mint color or red, I decided to go with red since I've always wanted a red peplum dress.
BEFORE:
You guys, what is this face? I mean, seriously, what is this FACE!!!??? In my head I was trying to look all cute like a sad little puppy face with a pout but no, this doesn't have an ounce of cuteness in it. I literally am giggling right now and laughing at myself as I am posting this picture.  I know many people wouldn't post their ugliest picture of themselves but it's just so funny to me. HAHAHAHAHA okay, moving on….
BEFORE/AFTER:
The first thing I did was dye the faded yellow dress suit.
I was on a time crunch(the story of my life) so I didn't take step by step pictures along the way.
AFTER:
Do you want to know how to put full make-up on in under 5 seconds? You don't! You put an over sized sunglasses on!
The camera and the lighting picked up more of a pink, fuchsia hue but in real life it's a classic cherry red color. The two slits on the bottom of the peplum is the same slits as the jacket. I cut off the sleeves from the jacket and added it onto the sleeveless dress, altered the dress smaller and form fitting, cut the lining of the dress shorter so it wouldn't show,
What you'll need:
-A dress suit
-Fabric dye
-Big bowl or a bucket
-Gloves
-Matching thread
-Sewing machine
-Scissors
Estimated time: 3-4 hrs.
Budget: $10
Skill level: A confident intermediate to advanced
These are the challenge themes in case you'd like to follow along with us!
Week 1: Combine Floral and Geometric or Stripes
Week 2: Gingham
Week 3: Handbag, Tote bag or Clutch
Week 4: Maxi Skirt or Dress
Week 5: Boho Chic
Week 6: Asymmetrical
Pin & Share!