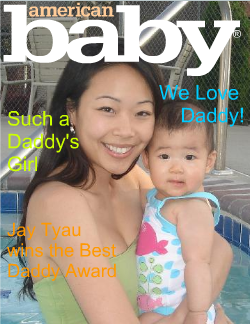 So back in March when I was reading the Parenting magazine, I saw that they were having a contest for The Best Daddy Award for Father's Day. To win the award, one was to send a picture of the husband/dad with their kids and write a simple 200 words of less about why they should win the award before a certain deadline. I knew that Jay would win for sure, so I picked my favorite photo of Jay and Adalie at the time(the picture above) and submitted my 200 words. But guess what- the email kept on coming back to me and couldn't get sent! The email address wasn't valid and I saw posts on the parenting site that the contest wasn't a valid one and etc. So I was bummed. But I realized, I don't need to enter Jay into a contest to see if he'll win the best daddy or not, he has already won in my book! So Jay Tyau, congratulations on winning the Best Daddy Award. You'll be notified via e-mail and phone shortly of your prizes.
So… I wanted to post the 200 words I wrote for the contest but I can't find it. I think I deleted it thinking Jay would probably find it if I didn't delete it somehow. He's just a stalker like that. 😉
It was probably really cheesy anyhow and 200 words is way too short to explain to anyone why he is such a wonderful daddy so here are 10 reasons why he is.
1) Even though he looks so manly and macho and don't get me wrong, he very well is, but I've also never met such a sensitive softie. I tried to have Adi cry it out 3 times(and I say "I" because it's never Jay's idea) and every single one of those times, Jay HATES it and he just lies down right in front of her bedroom door and just listens to her cry, as his face is cringing with pain and his fingers are reaching under the door because that's the closest as he can get, wishing I would change my mind any minute. I guess I'm a softie to some point because I finally can't take her crying anymore and I tell him "You can go get her Jay." and he instantly lights up with the biggest grin on his face and jumps up and gets her in 0.276 seconds flat. Then he holds her close all night long because he feels bad. Man, Adi's got her little fingers wrapped around him good.
2) I don't know any other man who does so many house chores as Jay. He vacuums, he cooks, he wipes our stainless stove and refrigerator every single day, he changes Adi's diapers, he gets her ready, gives her a bath, I can go on and on. I think he does more chores than me sometimes after he comes home from a full-time job.
3) He loves dressing Adalie and he always tries to match with her. Like yesterday, he wore all black and he dressed Adi in all black. Last Sunday, he put a aqua color hawaiian dress on her and he wore a matching aqua tie. And then he walks around in public with a smile and wears it with pride. While we were dating and before we had her, he always tried to discreetly match with me and then say, "Whoa Sarah, why are you always trying to match me for?" but now it's changed to trying to match with Adalie, but I don't mind it at all.
4) He never needs winding down time after a long day at work. I heard most men come home and need time to wind down from a hard labor at work but not Jay. When I used to work part-time and he used to pick me up after working all day, he would greet me and immediately start talking about the day and I remember I was the one that asked him, "Don't you need some winding down time? I've heard that men need to wind down after a day's work and that a wife should leave him alone for 20-30 minutes." Jay said to me, "No, why do I need a down time by myself? My down time is spending time with you and baby." I was the one that said, "Well, I need some down time myselfm so if you could talk to me in 20 minutes…" He is such a girl in the relationship.
5) He is so active and proactive with Adalie. He is always playing with her, holding her, lifting her up in the air, spinning her around, playing peek-a-boo, scarying her, making silly noises and matching them with even sillier faces, and always always making her laugh. No wonder why Adalie absolutely LOVES and ADORES her daddy.
6) He used to be the most high-maintenance boy in the world. He used to be all about the brand names such as Tiffany's, Louis Vuitton, used to shop and buy new clothes weekly, wear a white belt and match it with white shoes, you see my point. But ever since we've been married, that has all stopped. He never buys anything for himself so that Adi and I could buy more for ourselves. Every holiday and birthday comes near, I ask him what he wants and all he says is, "I've got everything I want which is you and Adi, I don't want anything else." His favorite outfit consists of his $3 shirt and his basketball shorts that he has in green, black and silver and wears it pretty much everyday.
7) He is incredibly sweet. At times he would just stare into my eyes for awhile and smile at me and as his eyes get watery and teary-eyed, he says quietly to me, "I love you so much. I'm so lucky to have you. I'm so happy." He'll also talk to me over the phone and tell me "I love you so much Sarah. I'm tearing up right now because I love you so much." Yes you're probably throwing up right now, but you gotta admit, it's sweet. No? okay sorry, I'll move on. 🙂
8) Since Adalie's been super fussy at night lately because of her teething, Jay's been getting up with her a few hours before when I usually wake up and take her on a stroller walk for about an hour so that I could get some undisturbed sleep. He sacrifices his sleep so that I could get some sleep. Aww, I love him.
I have a cute story to tell. One of those mornings when Jay was on a stroller walk with Adalie, he was singing a lullaby to her out loud and he said he was singing it pretty loud because there was no one near. As he was singing, he hears an old lady's voice saying "Oh how lovely, how lovely!" So he looks and finds an old grandma sitting in her backyard. She says to him, "What song are you singing?" He replied, "Oh this song that my mom used to sing to me when I was little." Then she said to him, "Oh how sweet. Will you sing it to me?" So Jay sang to an old grandma that he's never met before, "How I love my little baby~ sweet and precious little baby~ how I love my little baby~ honest to goodness I do~~~~" She said to him after, "Oh how lovely. How good to see a young father sing to his baby, how lovely." Such a cute story huh? It makes me smile every time I think of that story. Especially since he has some pitch problems haha.
9) He is so smart and is such a handy-man. He is like his mini dad, he knows everything about anything. He knows how to fix anything, he knows how to run a water pipe in the basement for the washer and the dryer, he knows everything about construction and he's going to do all the constructions himself as we're going to renovate the house soon. He is only 26 years old and with all the knowledge that he already has, I can't even imagine how smart he would be when he's 40.
10) He is the hardest working man I know. He is never resting, he is constantly doing hard work, pulling out the weeds, washing the car, fixing this and that, tidying up our house, he loves to work! I know that's a very hard trait to find in a lot of people these days, but he's got it down!
11)(Okay I said only 10 reasons but I couldn't resist because I could list 100 right now but my time wouldn't allow) I've never met another man who is more dedicated, more loyal, more protective, more loving, more patient, more perfect than Jay Tyau. He is truly my better half and he makes me want to become a better person just by his examples. I am the luckiest girl in the world to be married to such an amazing, incredible man. I miss him incredibly when he is away at work and I get so excited when he's about to come home. Whenever I think of how much I love him and how grateful I am for him, I get teary-eyed and I start to feel butterflies.
This Video was taken just a few days ago. This is for you Jay.

I've been trying to get her to say the word "dada" for some time now. I wanted her to say it on time for Father's Day but this is the closest as I got. I know parents fight for their babies to call themselves , either "mama" or "dada" but I actually want Adalie's very first word to be "dada." Ater all that he's done for us and continues to do for us every single day, I think he truly deserves it. So even though it wasn't "dada" but just a "da" she is definitely getting there!(and don't mind my really creepy voice. I need to work on my baby talk…)
Here are some of my favorite photographs of Adalie and Jay.
So Jay, I hope you have the best Father's Day ever. We love you more than words can ever describe. You are our hero, you are our favorite, you are truly the best daddy/husband. Thank you for loving your two girls. I think it'll take me and Adalie at least 10 years to give back to you what you've done for us this past one incredible, happiest year and 7 months of our lives. 🙂