do you see those lips leaning forward to give me a kiss? Swoon a 1000x.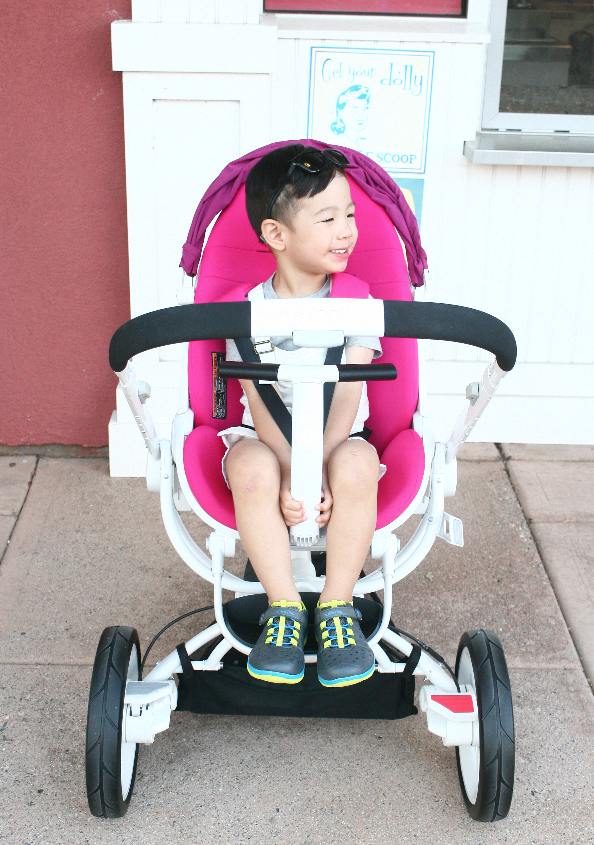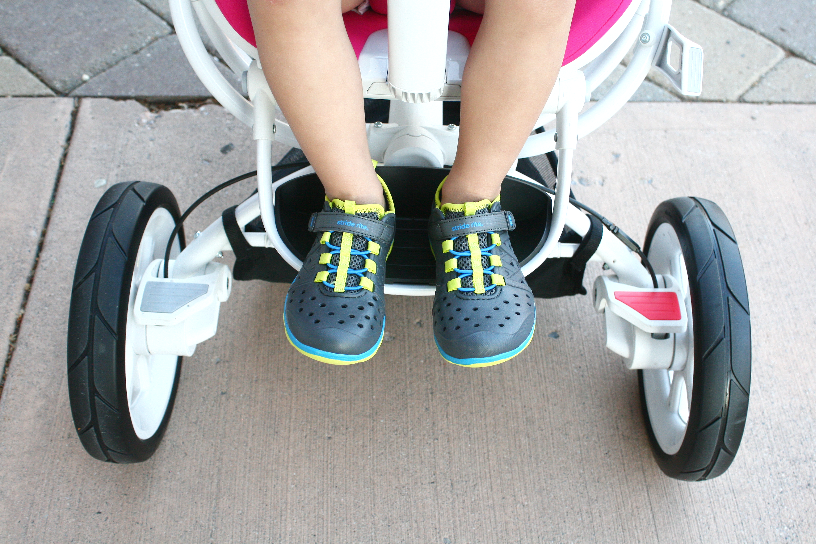 My romper | Clogs | Stroller | Sneakers
Aiden's cool Phibian shoes were perfect for the splash pad, they are made for land and sea with quick drying, no-slip, and machine washable material. Perfect for water parks this Summer!
Also, who says boys can't pull off pink? Pink is one of my son's favorite colors and I think it suits him so well! He can definitely rock the pink with style! If you want a stroller that will turn heads and get a ton of compliments on, this Quinny Moodd stroller is it. It is so sleek and very easy to assemble(which is a huge, huge bonus for me, I hate assembling things), and just a very cool looking, easy to maneuver stroller. My favorite part about this stroller besides the looks is that it unfolds automatically. This stroller looks futuristic as is, but when it automatically unfolds and makes this swoosh sound as it clicks and locks the stroller in an upright position, it reminds me of those cars that have doors that open vertically like in Back to the Future!
* I received the sneakers & the stroller in exchange for a feature but was not compensated otherwise.
One of our favorite ways to spend the warmer days is to go to our local mall that has a splash pad, a carousel ride and dole whip! Aiden I was videotaping my boy while riding the carousel with him so I don't have pictures but he was so happy! My two girls wanted to play the claw machine that had giant dolls and I knew they weren't going to be able to get a doll since those claws are so flimsy and it's just set to fail you, I hate those! And they were $2 for one turn! So overpriced. Anyway, they had a choice to either play the claw machine or ride the carousel and they both chose the claw machine and didn't get a doll. They wanted to ride the carousel but we told them they had made their choice so they couldn't, and my heart ached a little watching them sadly looking at their little brother happily riding the carousel. Haha, was that mean? I still feel bad a few hours later!
I had a total mom-guilt moment last night when I was putting my son to bed. Have we told you that we are the worst sleep trainers ever and with all 3 of our kids until they were about 3 years old, we lay next to them and cuddle them and pretend to sleep until they fall asleep, and we sneak out of the room? If one wakes up, then we go back into the room and the process starts all over again. We are the worst guys, I know. We spend about 1-3 hours every night doing this, can you imagine how much time we have spent on doing this with all 3 of our kids until they were 3? My son is turning 3 in 2 months so maybe soon he will be able to fall asleep by himself? For some reason, I have a feeling we're going to have to do this until he's like 5!
So as I was laying down with him for about 45 mins. and he kept talking and squirming all over, I said to him, "Aiden! Go to bed!" in an irritated voice and he whimpered sadly and then I didn't hear a sound. After about 15 minutes of silence and no movement, I knew he had fallen asleep and when I got out of the bed and looked at him using my phone light, he had fallen asleep in a fetal position and it broke my heart knowing he had whimpered sadly and crawled into a fetal position before falling asleep. I still feel guilty about it, dang you mom-guilt!