This post is part of the monthly series for #JOHNSONS® for Socialstars™.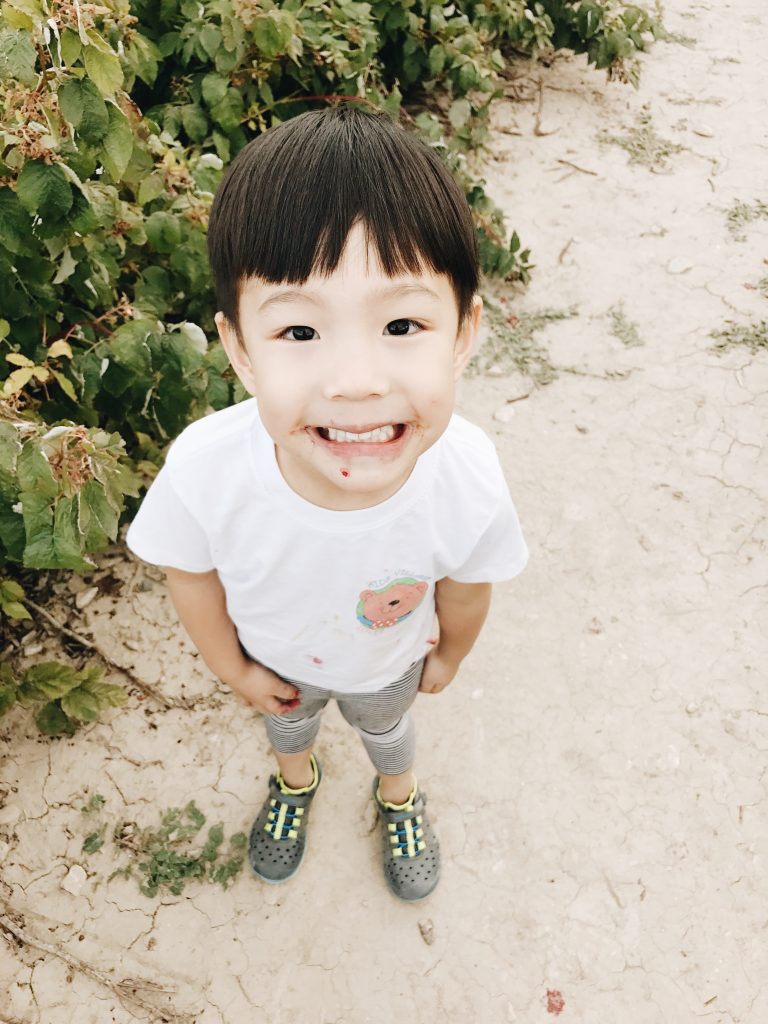 We went raspberry picking today! Well, it was raspberry picking for me, and raspberry eating for my son.
My son is my biggest cheerleader. "Mommy! You're really good at this!" he tells me when I'm setting up his train set. "I see your pretty hair, pretty arms, pretty fingers!" he told me while looking through his clear toy when driving to the berry farm today. "I don't want another mommy ever, because you're the best mommy ever!" He told me with a mouthful of raspberries.
He's also my constant reminder to be better. "Mommy, don't be mad at me." He said to me when I sharply told him to stop moving and go to bed the other night. My heart melted and I said sweetly while giving him a kiss, "I'm not mad at you, my sweet boy." Then he smiled with a cute little chuckle, closed his eyes and fell right to sleep.
A few weeks ago, I was also mad at him then. I felt the need to tell him right afterwards, "Did you know that even when I get mad at you for not listening or you do something to make me mad, I still love you? No matter what you do, no matter what you say, I love you always and always."
He listened silently & didn't say a word so I thought that was that. Then a few minutes later, I heard him excitedly tell his sisters in the other room. "Did you know that when mom's mad at me, she still loves me?" Then he came running down to me and said, "Mommy, I really liked when you said that. When you said you love me even when you're mad at me."
Then it hit me that my 3 yr. old son might have thought my love was conditional. That I loved him only when he was a good boy or when I was happy. Oh, how heartbreaking!
So today for our Monday family night, I told my kids how no matter what they do, what mistakes or bad things they'll choose to do, no matter what they say, my love for them will never dim. No matter how disapproving I may be of their choices, that they can tell me or dad because we wouldn't judge them or force them to change. That we would love them that much more. We'd be there for them that much more. How our love is not conditional, it's unconditional, that they are worthy of our love for simply being. That we hope they don't live their life for our validation or approval, but live whichever direction their true self longs for. I hope my kids always remember this, but I hope I'll remember that my actions don't convey otherwise when they grow up and make wrong choices.
Since my son was covered in dirt and raspberry juice all over, for bath time we used JOHNSON'S® Head to toe extra moisturizing baby wash. It is an ultra-mild cleanser that's clinically proven safe and gentle enough for a baby's delicate skin and sensitive eyes, even when they are just a few days old. We just got back from a baby blessing of a dear friends and the baby girl was just so tiny and I was so baby hungry! My go-to baby gifts for my friends have been these adorable rompers for a girl baby and overalls for a boy baby, or moccasins, amber necklace(great for drooling & teething) and Head to toe extra moisturizing cream because I use it on my children and we are constantly going through baby wash, you could never have enough. These products are perfectly pH-balanced and infused with vitamin E and baby oil and let's be honest here, I've been using the lotion on myself and love it, because the scent is very mild(I think it's no scented?) and it keeps my skin smooth.
For more information, check out Bath time for sensitive skin
Easy and Delicious Raspberry Jam Recipe
Ingredients:
Instructions:
Crush the raspberries.
Add sugar and pectin. Stir for 3 minutes.
Ladle the jam into clean jars and let it sit for 30 mins. Refrigerate up to 3 weeks, or freeze for up to 1 year.